Learn about our 2022 Endorsement Committee!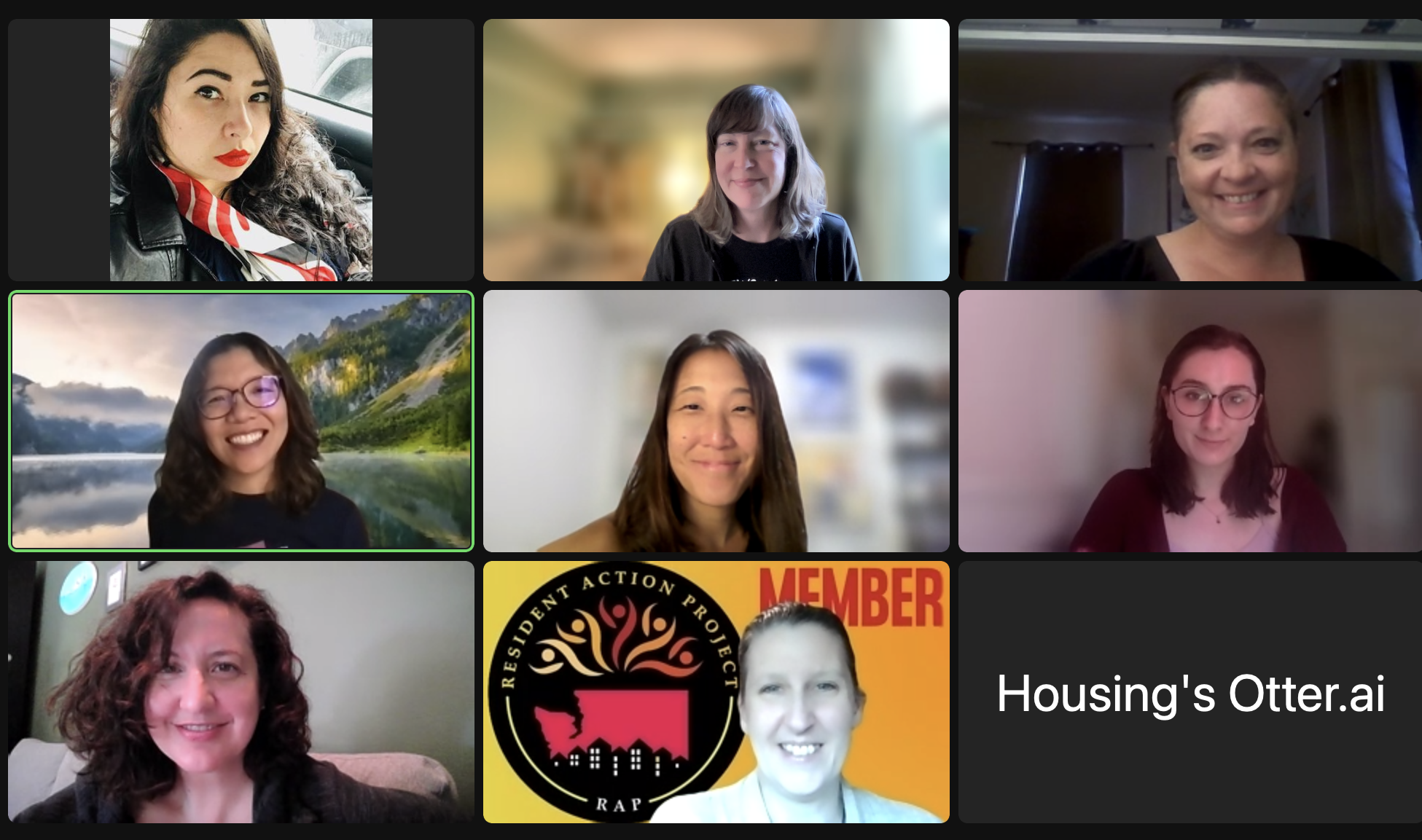 Some of the Action Fund's Endorsement Committee members and staff at their last meeting (from top left: Jennifer Bereskin, Rachael Myers, Sheila Babb Anderson, Ma.Caroline Lopez, Kylie Rolf, Kendra Allman, Christena Coutsoubos, and Brook Fadley)
The Action Fund Endorsement Committee work is in full swing! In April the Action Fund offered early endorsements to 28 housing champions who have experience advocating to pass more equitable housing policies and funding. After this year's May filing period, we invited other legislative candidates to apply for our endorsement. We received over 70 applications and since then the Endorsement Committee has released sixteen further endorsements for candidates we feel confident will work hard to support housing justice initiatives in the State House of Representatives and in the State Senate. You can find a list of all our endorsed candidates here. Now that the primaries are over, we'll be updating that list soon with further endorsements, as well as making sure to support our endorsed candidates as the election in November draws nearer. As always, keep an eye out for opportunities to volunteer or take action!
In honor of the work our Endorsement Committee is doing, we wanted to highlight all the dedicated members who come together to offer their own experiences and expertise in determining the candidates who will best promote housing justice in the legislature. Housing Action Fund Endorsement Committee members include a diversity of people from different ethnicities and cultures, people with lived experience of homelessness and housing insecurity, people who provide housing services, members of housing and homelessness coalitions, people who work specifically around equity and racial justice, and community leaders - all of whom are housing advocates! We're excited to share that the subcommittee, Housing Action Alliance of Snohomish County (HAASC) made up of local advocates is convening again this year to review candidates from their region.
2022 Endorsement Committee Members:
Kylie Rolf (Committee Chair)
Jennifer Bereskin
J. Peter Shapiro
Sheila Babb Anderson
Christena Coutsoubos
Paula Sardinas
Sharonne Navas
Charles Adkins (HAASC Committee Chair)
Mark Smith (HAASC)
Further Housing Action Alliance of Snohomish County members:
Mary-Anne Dillon
Fred Safstrom
James Dean
Duane Leonard
Melinda Woods
Rachel Downes
Brock Howell
Demi Chatters
Angela Di Filippo
Steve Corsi
Laura Reed
If you are interested in joining the Endorsement Committee next year, email Ma.Caroline: carolinel@housingactionfund.org
And if you're interested in helping our endorsed candidates get elected, please sign up here to volunteer with us!
---
Reflecting on a Year with the Housing Alliance Action Fund
As the final week of my fellowship with the Action Fund comes to a close, I am left reeling. Time flew by so fast!
I am so glad I was able to spend this past year working with the Action Fund. I have learned so much not only about the legislative process, but about how critical advocacy and organizing is when it comes to changing policy for the better. Wherever I go next, the value of advocacy and organizing is something I will take with me.
I want to thank all the Action Fund's wonderful staff for all they've done to support me this past year. I especially want to give such a huge thank you to Ma.Caroline, the Action Fund's Director of Equity, Racial Justice, and Electoral Organizing, for doing so much to teach me how to work in a compassion-focused, humanizing-focused workspace, one which always places emphasis on racial equity and wellbeing. I'm so profoundly grateful for these lessons and excited to use what I've learned at the Action Fund throughout my life and my career.
Of course, I plan on staying tuned for the election this November and the 2023 Washington State Legislative Session – though I'll no longer be working with the Action Fund, I'll be cheering all the Action Fund's staff and fellow advocates on as they continue working hard to get housing justice bills passed!
- Kendra Allman, Community Organizing Fellow