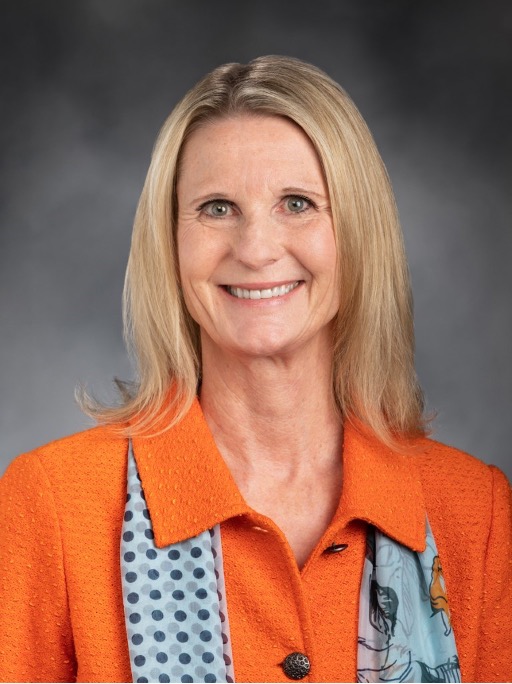 We are proud to highlight a true housing champion: Senator Patty Kuderer from the 48th Legislative District. Sen. Kuderer first entered the State Legislature in 2015 and is currently the Chair of the Senate Housing and Local Government Committee. Before coming to Olympia her law practice was primarily focused on employment discrimination, addressing income inequality, the employment opportunity gap, and harassment in the workplace. More recently, she co-created the Women's Commission in Washington State to focus on issues around inclusivity, equity and diversity. Along with affordable housing bills, rental assistance and tenant protections, Sen. Kuderer is working to eliminate the digital divide, focus on health equity particularly during this health crisis, child care and early learning, campaign finance reform, and so much more!
The link between her professional career and personal interests helps create the energy to work toward addressing inequities within systems that affect individuals, families, groups and communities.
A few weeks into this legislative session and Sen. Kuderer has been driven to sponsor and support policies that will have a significant impact on low-income renters, those who are facing housing instability, and those who are experiencing homelessness. The Senator is the primary sponsor for Senate bill 5160, which ensures that tenants cannot be evicted due to rent they were unable to pay during the eviction moratorium, that they are not denied housing in the future due to inability to pay rent during the pandemic, and that they have the opportunity to enter into payment plans to catch up on rent. It also provides legal counsel to tenants in eviction court.
Senator Kuderer is a housing champion who is committed to creating a more level playing field for landlords and tenants. Immense gratitude goes out to Senator Kuderer for her tenacious work to keep people housed and healthy throughout and beyond this 2021 legislative session!
For more on SB 5160, check out this article from the Olympian. Click here to learn more about Senator Kuderer.
---
Legislative updates from Week Three
Things continue to move quickly during this remote legislative session, especially for affordable housing and homelessness bills! Housing champions are leading the way on policy to prevent people from losing their homes during the pandemic and beyond.

Right now, in most parts of the state, landlords can evict a tenant for no reason with just 20-days' notice. House bill 1236, sponsored by Rep. Nicole Macri, requires landlords to have a legitimate business reason to evict a tenant. The bill had a hearing on Tuesday in the House Housing, Human Services and Veterans committee. Dozens of tenants and advocates turned out to testify and almost 500 people signed in to support the bill – which is scheduled for a committee vote next week.
GREAT NEWS!! House bill 1277 that would fund a state rental assistance program with a new document recording fee passed out of the House Housing, Human Services and Veterans committee this morning with no troublesome amendments! Please consider sending a note of thanks to the committee members who voted yes, including Representative Strom Peterson of the 21st district, Rep. Jamila Taylor of the 30th district, Rep. My-Linh Thai of the 41st, Rep. Jessica Bateman of the 22nd, Rep. Frank Chopp of the 43rd and Rep. Mari Leavitt of the 28th district!
The House also held a hearing on house bill 1368 – the early budget action bill. This includes an agreed upon set of budget priorities that we hope will be passed early in the session. It includes $345 million for rental assistance. The majority of that is the state share of the rental assistance funding included in the last federal relief package. $20 million is state funds for activities that federal dollars can't be used for, including targeted funding for culturally specific organizations to make sure rental assistance reaches communities of color and other historically underserved communities.

House bill 1228, sponsored by Rep. Andrew Barkis, was also heard this week. We oppose this bill, and Michele Thomas and other advocates spoke to the bill's shortcomings in the hearing. This bill would immediately end the moratorium on evictions and it fails to provide any meaningful protection for tenants.

We were pleased to testify in support of Senate bill 5287, sponsored by Sen. Mona Das, expanding the Multifamily Tax Exemption (MFTE) program. One of our priorities this session is preventing any expansion of the MFTE program unless it is improved by requiring more affordability and including protections for tenants and anti-displacement requirements. The new approach to the bill includes better protections and greater affordability requirements, including a new property tax exemption for permanently affordable homeownership.
---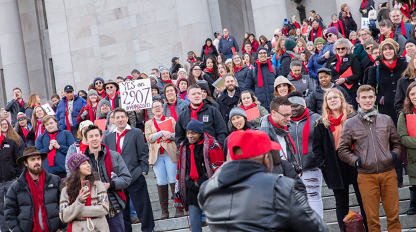 We have less than two weeks before we kick off our 2020 Housing and Homelessness Advocacy Days event! If you've already registered, hooray! We can't wait to see you! Please encourage your friends, neighbors and coworkers to attend and join the movement!
ome of you may remember a cold February a few years back when our advocacy day was snowed out. Rest assure that snow and transportation issues will not stop us from advocating this year. #HHAD2021 will be completely virtual, making it easier than ever to come together for a warm and lively experience. Come rally and advocate with a few hundred of your closest allies for housing justice! While we won't be physically at the capitol, we will do what we do best: FIGHT! FIGHT! FIGHT! (Because) HOUSING IS A HUMAN RIGHT!
We want you to know that registering by January 29 will offer you the useful opportunity to meet with your legislative district group next week. At that time, your group will get to meet one another and prepare for your lawmaker meetings. Registration will be open until the start of our event on February 8. Visit our website to download event information in Spanish, Chinese and Vietnamese.
HHAD at a glance:
Monday, February 8:
9:30am-11:30am - #HHAD2021 Welcome Program and Presentations
11:30am-12n – Optional: Technical support for zoom tech, scheduling, and questions about our legislative agenda and the session
Monday - Friday, February 8- 12:
12:00n Monday to 12:00n Friday - Lawmaker meetings with your Legislative District groups
12:00n Monday to 12:00n Friday - Open zoom breakout rooms for Legislative District Groups to debrief and receive HHAD staff support anytime during the week
Friday, February 12:
1:00pm-2:00pm – "Rally for Homes" program including Housing Champion lawmakers and a Call to Action with the Resident Action Project
2:00pm-3:00pm – Optional: We want to hear about your HHAD lawmaker meetings! Stick around a little longer and share with staff and other HHAD attendees
What to expect during virtual #HHAD2021:
A joyful celebration and rally with housing movement advocates!
Seeing friends from across the state; connecting over values and our common cause!
Engaging conversations with newly elected lawmakers, many of whom are renters themselves!
Wear RED for #HHAD2021! (We know some of you still have your scarves!)
Interpretation and accommodations available *Please request via registration by Monday, February 1 or email Sarah Cohn, Housing Alliance MSW Intern: sarahc@wliha.org
You will be emailed your district meeting schedule with LD Lead contact information this week or soon after you register
If you registered by January 22, look out for an email from your LD Lead
You will receive a link to the event webpage with finalized meeting schedules, zoom links, phone in options, legislative agenda materials, social media materials, HHAD zoom backgrounds and more by Friday, February 5
Advocacy Panels Briefs:
"2021 Legislative Agenda and Session Updates". Michele Thomas, Director of Policy and Advocacy and Nick Federici, Housing Alliance Lobbyist will give you the inside scoop and details on what has been happening in committees and throughout the session. They will offer tips on advocating for important housing bills during this unusual virtual legislative session. To prepare you for your district meetings, they will offer a brief on the Housing Alliance legislative agenda.
"The Diversion Approach from Practice to Policy: Addressing racial disparity in the homeless system".  The Washington state Advance Diversion Coaches work to increase the visibility and use of Diversion. Diversion is an approach that assists households in quickly securing temporary or permanent solutions to homelessness outside of the homeless system by supporting creative and cost-effective solutions to meet individual needs. Diversion is intended to increase housing options for historically underserved communities—nearly 75% of those served in King County are Black, Indigenous or people of color (BIPOC) and 67% identify as Black/African American. During this panel you will learn more about how the Coaches promote the key principles of internalized bias and anti-racism, person-centered engagement, and applying "unconditional positive regard" to help shift our systems through practice and policy to be more responsive to the needs of BIPOC communities.
"Covid-19 and Housing: Stories of intersecting issues that we cannot ignore". Moderating this panel is Debbie Lacy, CEO and Founder of Eastside for All and lead organizer for Eastside Renters in Crisis, a community advocacy group which centers the experiences and needs of community members most impacted by the affordable housing crisis and COVID-19. Debbie will interview community members, most of whom have given testimonies for housing bills this session. They will share how their housing, health, safety and well-being have been deeply affected by the pandemic and the systems that were ill-equipped well before COVID-19 to support families and individuals during this crisis.
---
Join our fight to prevent evictions and homelessness today! Please take a moment to send a letter to your lawmakers, asking them to VOTE YES on HB 1277, HB 1236, SB 5160, and SB 5139! You can customize the letter to focus on the bills that are most important to you, and even add a personal story about how these bills would help you or your community. Please take action on behalf of your community members who have fallen behind on rent and who are worried about what the future holds after the eviction moratorium expires on March 31.
---