Representative Image: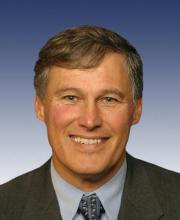 For the week ending February 16, our legislator of the week is not actually a state legislator. We are thrilled to recognize Governor Jay Inslee for his commitment to helping children thrive by ensuring that they have a safe, healthy, affordable home.
On February 11, Housing and Homelessness Advocacy Day, while more than 650 people were meeting with their lawmakers about affordable housing and ending homelessness, a small delegation had the opportunity to meet with the Governor. The group included Housing Alliance Action Fund board and staff, YWCA of Seattle-King-Snohomish board members, and representatives from the Washington Low Income Housing Alliance, Housing Development Consortium Seattle-King County, Statewide Poverty Action Network, and Building Changes.
During the meeting, the Governor expressed his concern over the number of school children, more than 27,000, who were homeless last year. He told us, "Children who are homeless and hungry can't learn; we need to make sure that they have an equal opportunity to succeed in school and in life."
He compared the value of extending a temporary tax on beer to getting those children into safe, affordable homes. He also encouraged the group to reach out to the education community to join us in advocating a home for every child.
Governor Jay Inslee meeting with advocates during Housing and Homelessness Advocacy Day.
The group asked the Governor to embrace the following solutions to homelessness and our state's shortage of affordable housing:
Expand affordable homes across the state: An investment of $175 million for the Housing Trust Fund would create more than 4,300 homes for low-income households. It would also create more than 5,300 jobs and $345 million in local revenue in the first year. Every dollar invested in the Housing Fund leverages at least five additional dollars, and three of those dollars are from private sources.

Support innovation and leverage private investment to end family homelessness: Investing $6 million in the Washington Families Fund would help end family homelessness by providing tailored direct services for homeless and housing unstable families. Since its inception, the state's $15 million investment in the Families Fund has leveraged $26.4 million from private philanthropy and expanded our expertise in what it takes to end family homelessness.

Prevent low-income families from falling into homelessness: Cuts to TANF (Temporary Assistance to Needy Families) in recent years have lead directly to families all across the state becoming homeless. Restoring cuts and the hardship exemption would prevent more children and their parents from becoming homeless.

Maintain a lifeline for people unable to work because of a disability or sickness: Preserve the critical support provided by the Housing and Essential Needs program for people who are temporarily unable to work due to a disability or sickness.

Ensure fair access to housing: Passing the Fair Tenant Screening Act, Part 
2 (HB 1529 and SB 5568) would make private market housing more accessible to low-income families and help prevent homelessness at no cost to the state.
The Housing Action Fund supported Jay Inslee in his run for Governor because we believed he shared our values. We are fortunate to have his leadership for Washington and look forward to working with him to make progress on ensuring everyone in our state has the opportunity to live in a safe, healthy, affordable home.