Representative Image: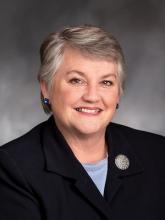 Brianna Thomas, Field Director
We know we've been somewhat quiet as of late. But we have been hard at work! We want to use this post to highlight the awesome work, contributions, and commitment of Rep. Maureen Walsh (R-16, Walla Walla) in creating more opportunities for affordable homes.
The Action Fund endorsed Rep. Walsh last election cycle, and we are so proud to have her working with us and for us in Olympia this session. Rep. Walsh wasted no time in beginning her work as a Housing Champion this year. She has already co-sponsored HB 1460, the Truth in Evictions Reporting Act, which strengthens tenants rights to accurate reporting of evictions. Also, she is the second sponsor of HB 1565 that would outlaw discrimination against tenants based on whether they use a government subsidy (like a Section 8 voucher) to pay for a portion of their rent. This affects many families and seniors across our state that rely on government assistance to maintain their housing.
She also has helped lead the charge on HB 1436, the Homeless Youth Act, which would create the Office of Homeless Youth Programs to coordinate services for our homeless youth across the state. And she also signed on to co-sponsor HB 1682, the Homeless Student Stability Act, which would provide schools with much-needed support to identify and serve homeless students. Rep. Walsh is also prime sponsoring an important TANF (Temporary Assistance to Needy Families) bill that will allow 24 months of participation in a vocational education program instead of just 12. As she mentioned earlier this week at Housing & Homelessness Advocacy Day, "What can you really do in 12 months? Folks need more time to make meaningful changes, and we need to support them in that."
Rep. Walsh also serves on the Capital Budget Committee and has expressed support for deep funding of the Housing Trust Fund. As if all this wasn't enough, she is also co-chairing biweekly human services meetings with Rep. J.T. Wilcox (R-2, Yelm). We believe Rep. Walsh is strategic, charismatic, and sincere, the rare politician who can work with legislators on both sides of the aisle.
This commitment isn't limited to session. While at home in Walla Walla she also serves as a Board Member for the Blue Mountain Action Council. Their mission is to "work together with low-income people to achieve their self-sufficiency by providing vital, self-help techniques, advocacy, and limited financial assistance." Preserving the dignity of folks working toward self-sufficiency infuses the work of Rep. Walsh on and off the marble.
"Poverty is the cause for so many ills in our society. While many of us take for granted that we have a roof over our heads, the reality is that homelessness has become the reality for too many of our families in Washington State. Without stable housing, families will never be successful in their efforts to lift themselves out of poverty. Realizing that over 20,000 children attending our public schools are homeless, we must take action to assist these families in providing the essential stability they need to be able to move forward in their lives."
We couldn't agree more. And, we couldn't be more grateful to have Rep. Walsh in Olympia as a daily example of what a true Housing Actioneer looks like.
So, we tip our hat to Rep. Maureen Walsh, and hope to work with many more legislators like her in the future.