The Housing Action Fund Endorsement Committee work has begun! This is an important year for local elections. With so many incredible statewide wins for housing stability and solutions to homelessness, we must all work to ensure that people impacted by housing insecurity are included, supported, and protected at the local level. Local elections are consequential, and the Housing Action Fund is paying attention.
As we know, housing is a foundation for health and healing particularly during the pandemic. The committee will be endorsing in races where candidates are in alignment with Action Fund values and will use their position to care for people with low to no income, will advocate for truly affordable housing, supportive housing, homelessness programming, tenant protections, and hold a racial justice and equity lens to work for the well-being of people most disproportionately affected by oppressive and outdated policies.
We received requests to weigh in on races last month. Next week, all candidates planning to run for office this year will file their campaign with the state. After filing week, we expect to receive more requests. At this time, the Endorsement Committee will choose which races we'll get involved in. We expect to make some primary election endorsements and hold off on others until the general election.
This is the first year the Action Fund will host a Local Endorsement Committee in Snohomish County! This committee will be making recommendations to the larger group, with a Snohomish County member joining the larger Endorsement Committee. This is exciting news! We may host more local committees in the future. If you are interested in organizing a Local Endorsement Committee, please let me know! carolinel@housingactionfund.org
Important dates for 2021 Elections:
May 17-21: Filing Period
July 16: Ballots are mailed out for Primary Election
July 26: Online and Mail Voter Registration Due (In-person deadline is August 3)
August 3: Primary Election
October 15: Ballots are mailed out for General Election
October 25: Online and Mail Voter Registration Due (In-person deadline is November 2)
November 2: General Election
---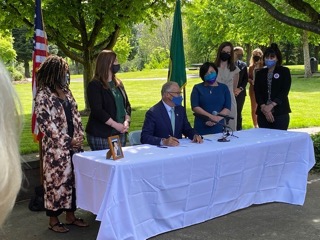 (Image Description: Governor Inslee sitting at a table outdoors, surrounded by community organizers and lawmakers, signing the Capital Gains tax bill.)
Governor Inslee has signed all of our priority bills!
HB 1236, which provides requires landlords to have a "good cause" to evict tenants and SB 5160, which provides lawyers for low-income tenants in eviction court, and require payment plans for unpaid rent during the pandemic both contained emergency clauses and went into effect upon signing!
HB 1277 which offers additional funding for rental assistance and homelessness programs and HB 1220 which supports emergency shelter and housing though local planning and development regulations, go into effect 90 days after the end of session.
The Governor also signed SB 5096, which creates a tax on capital gains (profits from the sale of high-end capital assets) last week! "This is where Washington state starts to make progress on making our upside-down tax system fairer and more equitable." Inslee said.
---
Join us for the Housing and Homelessness Candidate Forum, featuring candidates running for Mayor of Seattle!
The Washington Low Income Housing Alliance is co-hosting a nonpartisan Housing & Homelessness Candidate Forum, featuring candidates running for Mayor of Seattle! Join this May 25th event to hear directly from candidates on a wide variety of issues, including affordable housing and tenant protections. Register here!
Candidates who have qualified for the forum and are confirmed to attend include Colleen Echohawk, Jessyn Farrell, M. Lorena González, Bruce Harrell, Andrew Grant Houston, and Lance Randall.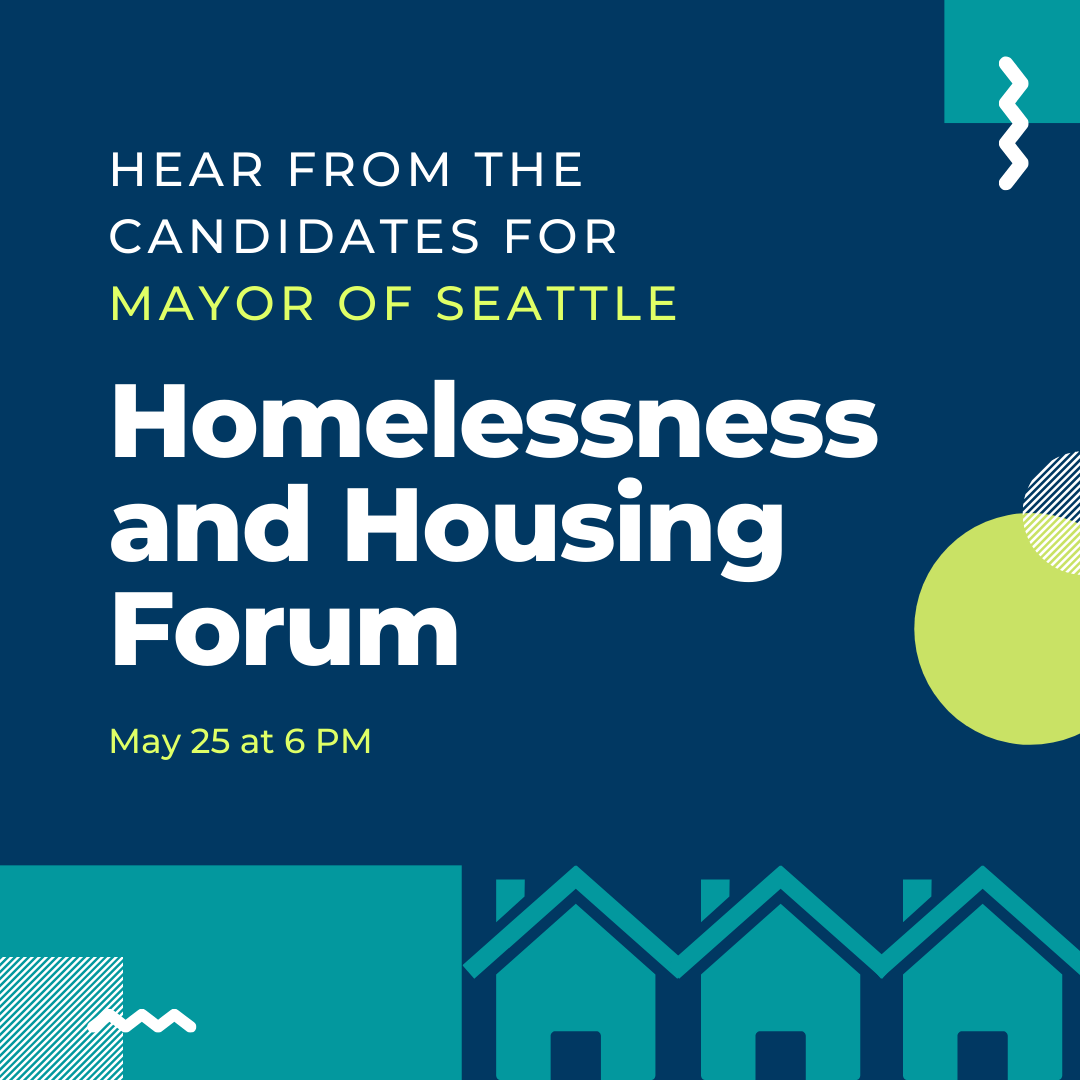 FORUM SPONSORS:
Washington Low Income Housing Alliance
Housing Development Consortium
Seattle/King County Coalition on Homelessness
Lived Experience Coalition
Urban League of Metropolitan Seattle
United Way of King County
YWCA Seattle | King | Snohomish
The Mockingbird Society
Building Changes
Seattle for Everyone
Habitat for Humanity Seattle-King County
Campion Advocacy Fund
We Are In
---
Join us for Bring Washington Home!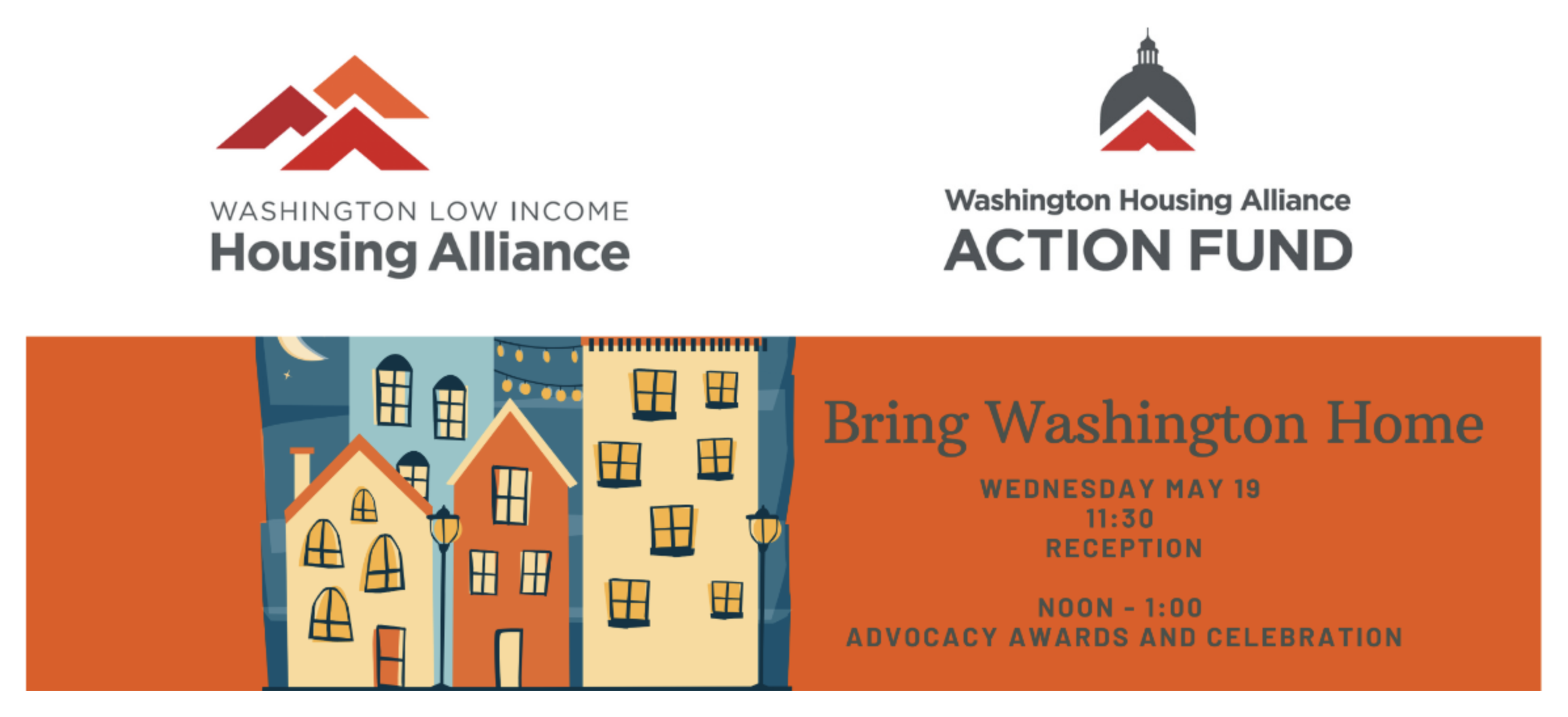 Our movement showed its strength and compassion in ways we never expected would be necessary before 2020. Homelessness service providers responded heroically to the crisis, quickly moving people into safer shelters. Affordable housing providers kept people safe by delivering meals, masks, and information to vulnerable residents. Local and state government leaders quickly set up new programs to deliver assistance to people struggling to pay rent. And thousands of people across the state raised a resounding collective voice over the last year to keep people safe, healthy, and housed during the pandemic.
Join us to celebrate what we've accomplished together and to gear up for the work ahead.

There is no cost to attend but all guests will be invited to make a personally meaningful contribution to power our work to make sure everyone in Washington has a safe, affordable place to live.
---