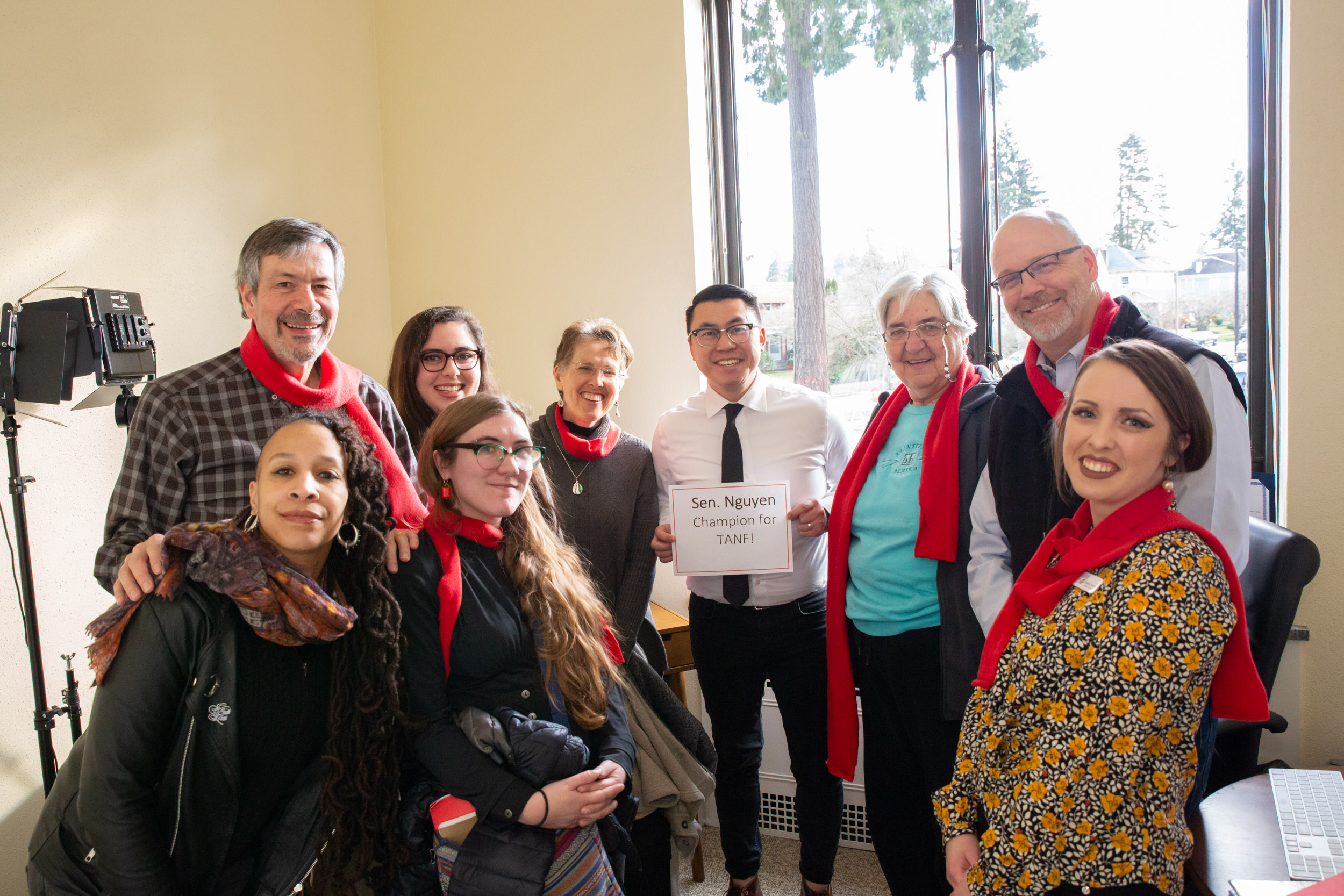 (Photo Image: 34th Legislative District housing advocates wearing red scarves with Senator Joe Nguyen who is holding up a sign that says, "Sen. Nguyen - Champion for TANF!" Photo taken during 2020 Housing and Homelessness Advocacy Day)
Written by: Caroline Lopez
In the Housing Alliance's decades of housing justice work, we have yet to ensure that everyone can afford a safe place to call home. But we know the solutions - what's missing is the political will to ensure that the funds, programs, and policies meet this tremendous issue at scale. The Action Fund is building the political will to support the passing of equitable solutions required for everyone to have the safe and stable home they deserve.
The Housing Action Fund along with the Housing Alliance has achieved massive wins over the last several years, in large part due to partnerships with housing champions at both the state and local level. Many of you were dialed in to these years of session actions and we are immensely grateful!
The moment we are in now asks members of the housing justice movement to be intentional in our actions, based on our values and motivation. Public policies at every level have a direct impact for people who are experiencing housing instability, housing injustice, and homelessness. Research data on racial disparities in homelessness, such as the SPARC Report by C4 Innovations makes it clear that housing is a racial justice issue. It's important that we evaluate how and why we do what we do and address areas for improvement. One way is by using tools such as the Framework for an Equitable COVID-19 Homelessness Response created by National Innovation Services to reduce the potential of harm coming from systems. Our motivation is to work toward systems change so that everyone can thrive in a truly affordable home, and that humanity, racial justice, trauma-informed care, and connection are woven into how systems treat low-income people.
We believe people who have experienced housing instability know best what they need, and that the priorities of people with that lived experience must be central to our housing agenda. This is a work in progress. Working collaboratively with the Resident Action Project, we connect lawmakers to people who can relay their needs and their barriers, who can tell their own stories.
The Action Fund exists to make sure that the people in elected office are accountable to the housing needs of people in their communities, people who have experienced hardship, inequities and discrimination in housing. We support people in building relationships to inform local, state, and federal elected officials who make decisions that impact their housing. We are also working to endorse candidates who have lived experience and can more fully represent low-income people and communities most impacted by housing injustice, including communities of color.
The Action Fund endorses in both state and local elections. We are proud that most of our housing agenda passed this session. Once policies are passed through the state level, it's up to elected officials at the local level to implement these policies and administer funds. In this local election year, it is imperative that we elect housing champions that will ensure that funds and programs will effectively meet the needs of people in their local communities. We hope that you will stay engaged with the Housing Action Fund and help support our endorsed local candidates this year!
I also hope you will take the time to read our series of upcoming articles on significant local wins. Check out the first article below to see which areas are using affordable housing funding opportunities through HB 1590 and how your region can do this too!
If you would like to share your creative ideas to support the Action Fund or wish to volunteer, please email Caroline Lopez, carolinel@housingactionfund.org.
For more information on the Action Fund, you can also check out this blog post from former Action Fund QuEST Fellow, Emily Strange that expands on the differences between the Housing Alliance and the Action Fund.
Links:
https://c4innovates.com/wp-content/uploads/2019/03/SPARC-Phase-1-Finding...
https://www.nis.us/blog/itbmev401o43pv52iixww6v8r9lw5o 
https://housingactionfund.org/blog/housing-champions-2020-importance-act...
---
Written by: Beth Doglio
Across the state, voters will be casting ballots in August and November in municipal elections. Who we elect at the local level is key to ensuring everyone has a place to call home.
Solving the housing crisis requires significant financial investments to build housing and provide support for our most vulnerable neighbors. Local governments across the state and nation are on the front lines and in Washington, they have had limited finance tools.
Six years ago, the legislature gave cities and counties the option to place on the ballot a small tax increase to support housing for those at 60% or less of the county median income. Since then, Olympia, Ellensburg, Anacortes, and Port Angeles took advantage of that option and with significant majorities at the ballot box adopted the 1/10th of 1 percent sales tax to address the growing housing crisis in their communities.
In 2020, the legislature passed House Bill 1590 allowing this tax to be implemented directly by city and county elected bodies, saving valuable time and resources. In this past session, House Bill 1070 clarified that these funds can be used to acquire land or existing buildings for renovation. To date King, Whatcom, and Jefferson Counties and the cities of Spokane, Vancouver, Wenatchee/East Wenatchee, and Tacoma have adopted the tax through a council vote.
The Housing Alliance has initiated a project to inspire, organize, and support local actions to ensure more counties and cities are taking advantage of this critical funding tool. Former legislator Beth Doglio and housing advocate Paul Knox are leading this effort and helped start or bolster efforts poised for success in San Juan, Skagit, Snohomish, Kitsap, Thurston, Yakima, and Clallam Counties. Organizing is also underway in Mason, Walla Walla, and Pierce Counties. Other regions are also being explored.
This work has provided organizing outreach and support, education of key elected officials and technical assistance for communities seeking options to structure their program. Materials such as fact sheets and online petitions along with messaging and strategy documents are being provided for communities to use. This project has connected and motivated both local advocates and willing elected officials to join together towards passing this revenue tool in eleven state regions previously not working this opportunity.
Tacoma Housing Authority CEO Michael Mirra helped shepherd the passage of this measure in Tacoma. In talking with him, he pointed out that this ongoing revenue source "actually creates a locally controlled Housing Trust Fund."
If successful, this organizing work will add over $50 million annually in locally controlled flexible revenue for housing production and services for those communities who have not yet passed this tax.
Across the state, voters will be casting ballots in August and November in municipal elections. Who we elect at the local level is key to ensuring everyone has a place to call home.
If you are interested in working in your community to assist with this effort, please contact Caroline at carolinel@housingactionfund.org.