Reflecting on a Year of Designing Housing Justice
By: Mary Zhou
I'm not an art school graduate, but I've always been drawn to design as a form of storytelling. I'm stubbornly convinced that we can share with each other in ways that are both beautiful and practical – and luckily, in the world of design, you can do just that. As my time with the Action Fund as Community Organizing Fellow comes to an end, I'd like to reflect on design project highlights and hopefully provide you with inspiration for designing your own advocacy and organizing work:
Design to: bring Housing Champions into office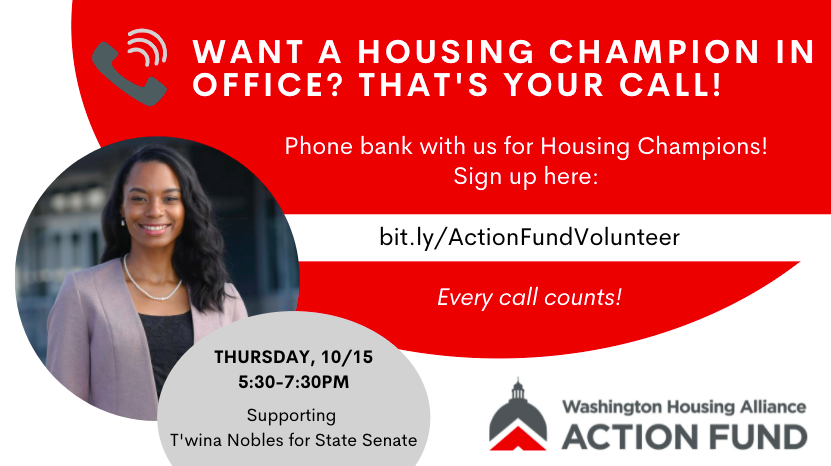 Twitter graphic to support phone banking for (now Senator!) T'wina Nobles
When I joined the team last fall, one of my first design opportunities was rallying advocates for our phonebank volunteering. The Action Fund had endorsed a slate of strong Housing Champions running for state office - now we had to make sure our communities knew about them and chose them on the ballot! I generated bright, simple, and sometimes punny social media graphics for Facebook and Twitter to appeal to potential volunteers, as well as a "Quick Voter Guide" to support voters in key districts with knowing who the Housing Champions were on their ballots. Canva made it easy for me to create and resize designs for different platforms (link to site and more design resources at the end of this article).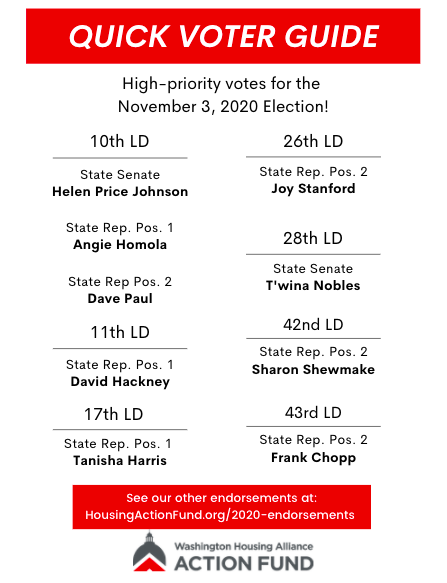 Design to: rally supporters and pressure state lawmakers to take action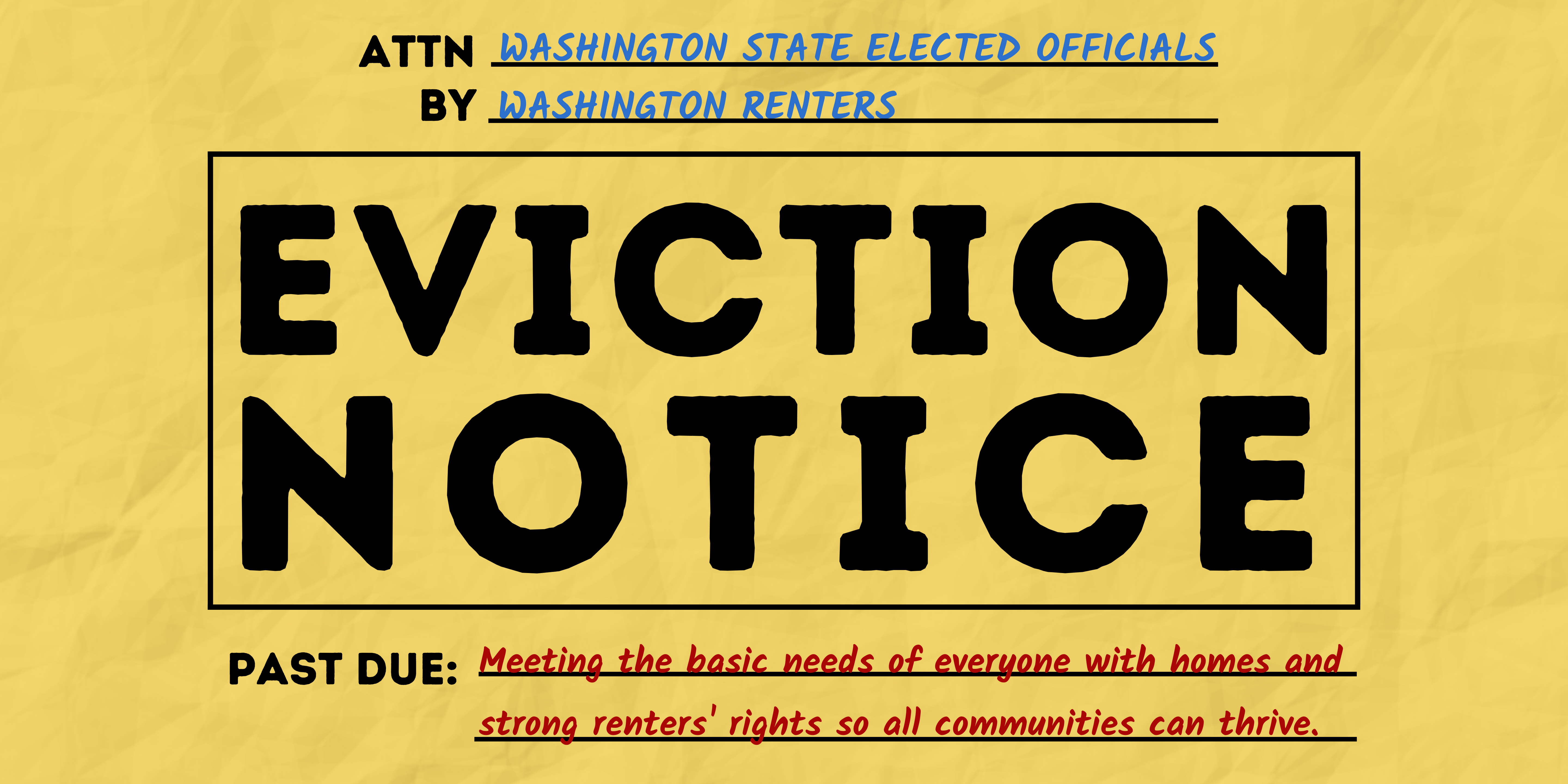 Our banner: an eviction notice to state officials, issued on behalf of Washington renters, demanding that they meet the past due requirement to provide housing and protections for all.
I had the chance to design a banner for a joint Eviction Moratorium action with Washington CAN through the Housing Justice Narrative Fellowship. This was my first time planning and participating in an in-person action! Through the Fellowship, we learned how to activate our base through key messages like "housing is a basic need" (you can also access the learning materials through their website). We were encouraged to be creative and adapt to this year of pandemic advocacy. If we couldn't deliver eviction notices to lawmakers' offices or gather large crowds of advocates – how about creating a big and bold banner, having tenants sharing their stories in front of it, and getting this action covered by news reporters? Bonus – banners are easily moveable and reusable – we were able to do actions in both Vancouver and Seattle with this one, and it can be used again for future actions!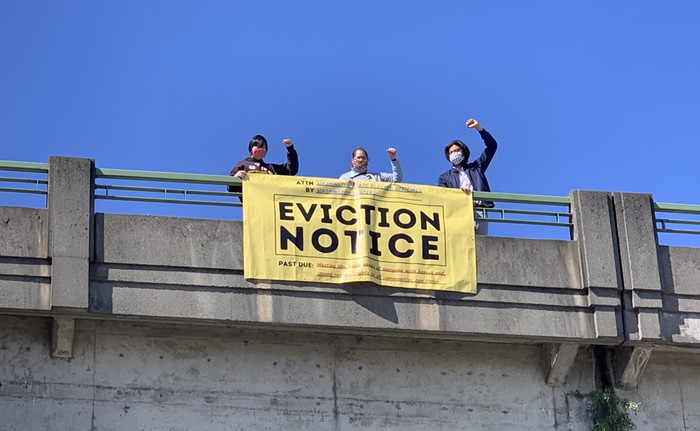 At the Ballard Bridge with WA CAN collaborators! You can read more in this coverage by The Stranger
Design to: rally social media support and urge Governor Inslee to protect tenants
The Washington state eviction moratorium was set to expire at the end of June 2021, and there was no word of extension – thousands of renters across the state were facing potential eviction. We wanted to rally fellow advocates and urge the governor to extend emergency tenant protections while new ones passed by legislature, such as the right-to-counsel, were being implemented.
My advocacy teammates had the great idea to invite housing advocates to share their stories, which I could create shareable social media graphics for (example featuring our statewide organizer, Duaa-Rahemaah Williams, below). We used the same prompt "I'm calling on Gov. Inslee to extend the eviction moratorium because..." for each advocate and invited them to share their unique perspectives.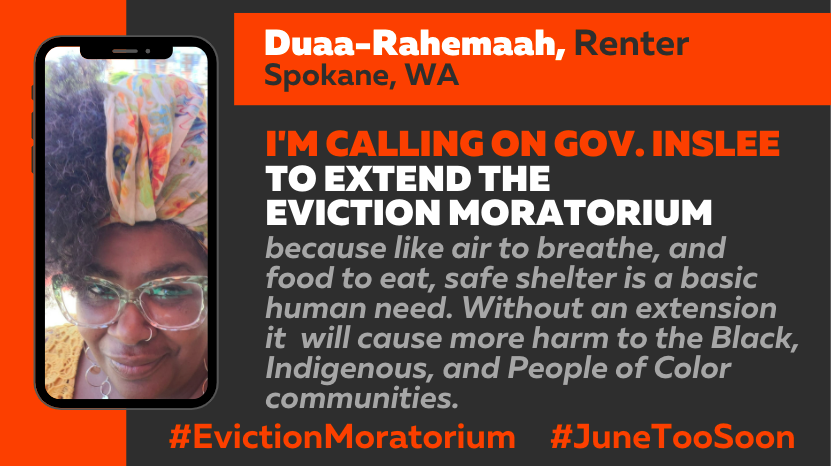 Additionally, I've had the chance to interpret and generate graphics from Census Pulse survey data, which tracks the effects of COVID-19 on US households. In this past year, I've consistently noted the disproportionate impact of the pandemic on BIPOC households – they struggle to make rent, and are less confident that they will be able to make the next month's rent. To put it plainly, both before the pandemic and during, housing justice was and is a racial justice issue.
I incorporated these ideas into a graphic for our Eviction Moratorium actions, sticking to a stark 3-color scheme with bright pops of orange to emphasize the importance of racial justice, the disproportionate impact on Black and Latinx renters, and the hashtag #JuneTooSoon we were using: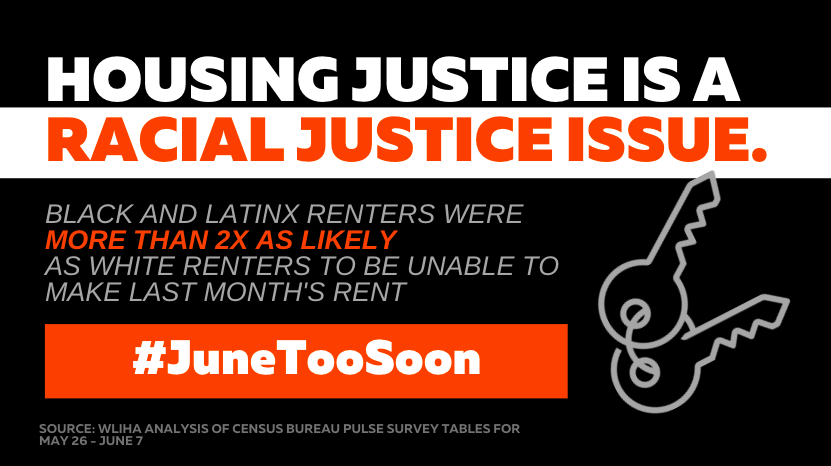 I feel lucky to have collaborated with such inspiring and supportive colleagues at the Action Fund – thanks to my experiences this year, I plan to continue designing for social good. I hope you'll join me in sharing your voice and skills through the housing justice movement!
Here are free or low-cost resources I found helpful in my visual design work this year:
---
Time to turn in your ballots!

If you're still filling out your ballot, here's our list of 2021 Housing Action Fund Endorsements. Take a look and see if we endorsed anyone in your area!
The primary is on August 3 so you must deposit your ballot in an official drop box (you can find your nearest one here) by 8pm on Election Day or mail it so it's postmarked no later than August 3.
Here are some quick links: