Our 2022 Legislative Priorities
After months of surveys, focus group discussions, and input from members, we are excited to share that the Housing Action Fund and the Housing Alliance boards have both adopted our 2022 Legislative Agenda! It's going to take a lot of work to pass such a bold agenda during the short session. We know there are more people than ever experiencing housing instability. This is not the time to hold back! We've heard from people throughout the state that their rent is going up, including people on a fixed income like social security. We're bringing a bold agenda to the legislature to create thousands of homes for people with the lowest incomes, to protect tenants from exorbitant rent hikes, and more.
Some of what we'll be asking for is a $400 million investment in affordable housing, a significant increase to the Aged, Blind and Disabled cash grant, the passage of the Housing Justice Act, and increased tenant protections. You can find our full 2022 State Policy Priorities here.
This year's session is just 60 days long, so we'll need to make sure lawmakers hear from us from day one – and don't stop hearing from us until they've passed every one of our priorities. Help us by making a donation, and support our policy priorities by taking action with us throughout the legislative session.
Everyone should have a safe, stable place to call home! Your support can help make that happen. Stay tuned for more about the upcoming legislative session after the holidays!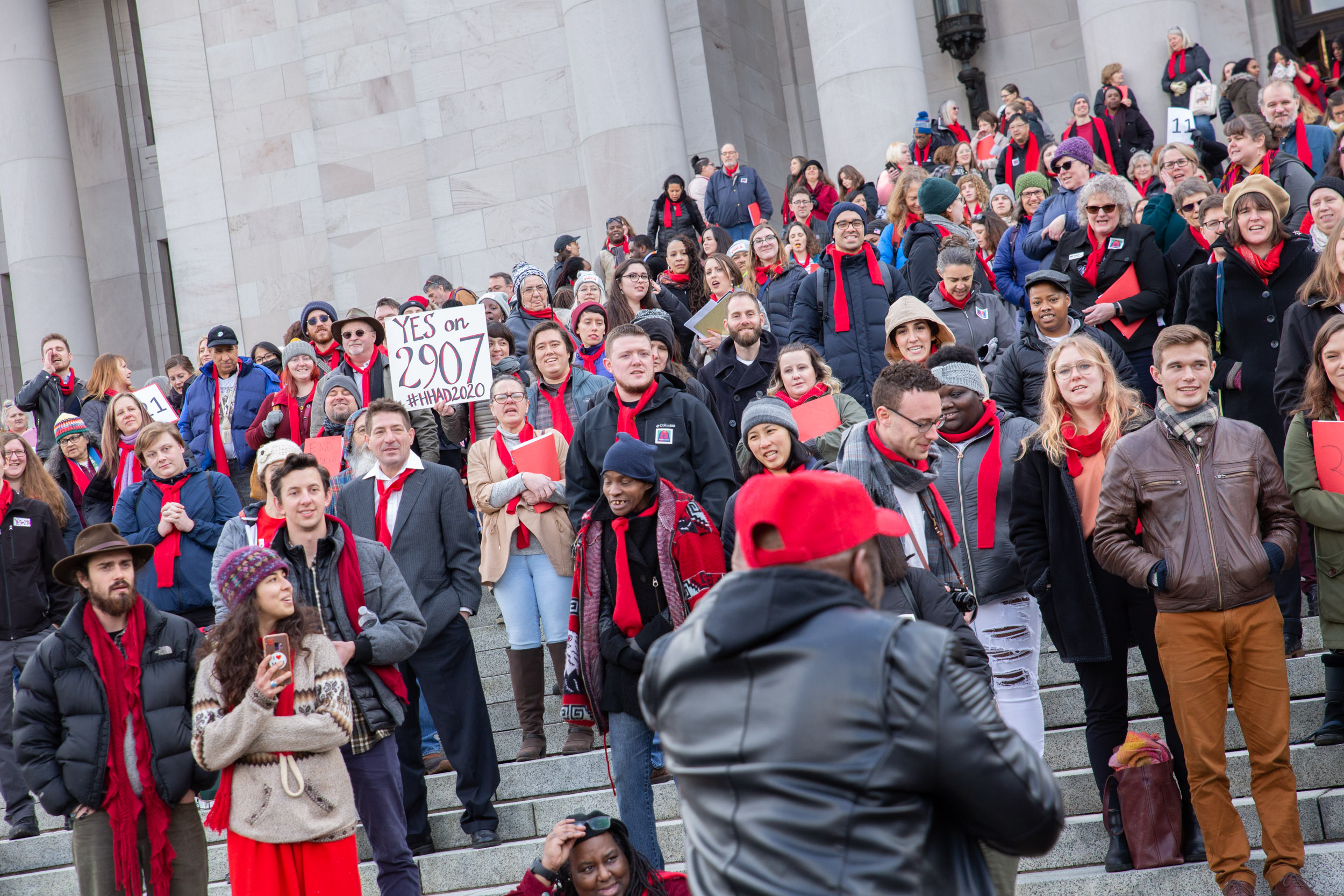 2022 Housing and Homelessness Advocacy Days!
Save the Date! We will hold our 2022 virtual HHAD event from February 1-3. Morning workshops will include a review of our legislative priorities by policy team members, Michele Thomas and Nick Federici, a Resident Action Project panel on the importance of lived experience in advocacy, and a training given by members of the Black Trans Task Force on transgender and racial identity in housing and homelessness policy, funding, and implementation. Registration opens in January!

Join December 17 Day of Action to Urge Your Senators to Pass the #BuildBackBetter Act!
From the National Low Income Housing Coalition
Join NLIHC, the Coalition on Human Needs, and other advocates across the nation for a Digital Day of Action on Friday, December 17 to urge your senators to pass the "Build Back Better Act" and its unprecedented investments in rental assistance, public housing, and the Housing Trust Fund! The Senate could vote on the bill as soon as the week of December 20, but congressional leaders must first secure the support of every single Democratic senator.
Your advocacy is critically needed!
We encourage all advocates to participate by emailing and calling your senators and posting on social media using the hashtag #BuildBackBetterAct. NLIHC's HoUSed #BuildBackBetter Advocacy Toolkit includes talking points, sample op-eds, and social media messages that advocates can use.
The House of Representatives voted on November 19 to approve the Build Back Better Act, an historic economic recovery package that includes significant investments in the HoUSed campaign's top priorities: $25 billion to expand rental assistance to more than 300,000 households. See how many vouchers your state would receive here. $65 billion to preserve public housing for its 2.5 million residents; and $15 billion for the national Housing Trust Fund to build and preserve over 150,000 affordable, accessible homes for households with the lowest incomes. See NLIHC's breakdown of how much each state would receive through the Housing Trust Fund here.
Before the bill can be enacted into law, it now must be approved by Senate, where the legislation must garner the support of every single Democratic senator. Congressional leaders are using the "budget reconciliation" process that allows Congress to enact legislation with a simple majority in the Senate, rather than the typical 60 votes.
Congressional leaders aim to pass the bill into law before Congress adjourns at the end of the year. Centrist Senators Joe Manchin (D-WV) and Krysten Sinema (D-AZ), however, have not yet publicly agreed to vote for the legislation, and there remains strong disagreement over the size and scope of the package.
Because changes are expected before the bill goes to the Senate floor, the House will have to vote again to approve the updated legislation before it can go to the president's desk for his signature. To pass the House again, nearly all Democratic representatives will need to vote for the legislation.
Take Action on December 17!
Email and call your senators and urge them to pass the #BuildBackBetter Act! Find the telephone number for your members of Congress here or send an email. Educate your members of Congress on why investments in rental assistance, public housing, and the Housing Trust Fund are critical to your community.
Urge your members of Congress to pass the #BuildBackBetterAct by tagging them on social media! Use NLIHC's HoUSed #BuildBackBetter Advocacy Toolkit, which includes talking points, sample op-eds, and social media messages.
Thank you for your advocacy!