Some Good Bills are Down, but We're Not Out!

As we reach the last few weeks of this session, we want to thank everyone who has taken action with us to fight for housing justice. Unfortunately, a number of key bills we supported – namely, the Housing Justice Act (HB 2017), House Bill 2023, and House Bill 1904 – did not make it past cutoff dates and will not be moving forward this year. The Housing Justice Act would have made it illegal for a landlord to discriminate against tenants based solely off criminal history, House Bill 2023 would have created a streamlined process for tenants to take their landlords to court for neglecting their basic responsibilities or violating a tenant's rights, and House Bill 1904 would have ensured a tenant six months' notice of any significant rent increases. All of these bills outline what we believe to be both critical and basic tenants' rights, and we are of course disappointed that none of them had the opportunity to become law this year.
This has not been an easy session, and we want to acknowledge the hardship experienced by all our supporters and advocates in watching these important housing justice bills fail to survive past their cutoff dates.
However, we also want to celebrate the astounding support all of you have brought to housing advocacy this session. In just the last few weeks, 1,600 people in our network sent 3,324 messages to lawmakers in support of House Bill 1904 – that's incredible! This demonstration of Washingtonians' passion for housing justice has absolutely not gone to waste – you have all taken part in sending a message to Washington lawmakers that the impact of severe rent hikes is a critical issue that they will have to address in the future. More than that, this session you have sent a message to Washington lawmakers that greater housing security is a dire need, and a need which thousands of Washingtonians will proudly fight for. We are not done fighting, and the advocacy we've done for these bills during the last few weeks has lain critical groundwork for the continued fight to get these bills passed next year. And there's still plenty of work to be done!
We believe that the most important voices in housing justice advocacy come from those with lived experience of homelessness and housing insecurity. One of the best steps you can take to fight for housing justice today is by sharing your own experiences! We need more people who have been impacted by major rent increases to get involved and share their voice. Please contact Po at PoL@WLIHA.org to start this critical storytelling process.
Another way for people with lived experience to get involved is by joining the Resident Action Project, which organizes advocacy for housing justice throughout the year. RAP has a summit coming up this summer, and we're excited to see new faces there! Sign up here to become a member of RAP, or click here to learn more!
And there are still lots of important housing-related bills that are still moving
! Check out our Capitol-Recap below to learn what actions you can take today to make sure these bills get passed.
Message from Caroline Lopez, Director of Organizing:
This legislative session has proven to be very arduous when it comes to passing good housing and homelessness policy. 2022 is an election year for most of the legislature. In order to pass progressive housing bills, we need to elect more housing champions who will stand up to the landlord lobby and fight hard for housing justice. We would love to begin talking with you and organizing around getting strong housing leaders into office this year! Sign-up here if you're interested in having a conversation and volunteering some of your energy toward supporting our future 2022 Housing Action Fund endorsed candidates.
---
Town Halls
Town halls are still fantastic opportunities to share your voice with your lawmakers this session! If you want to learn more about town halls, check out last week's article for a breakdown.
Upcoming 2022 Virtual and Telephone District Town Halls (from the Washington State House Democrats website)
---
Capitol Re-Caps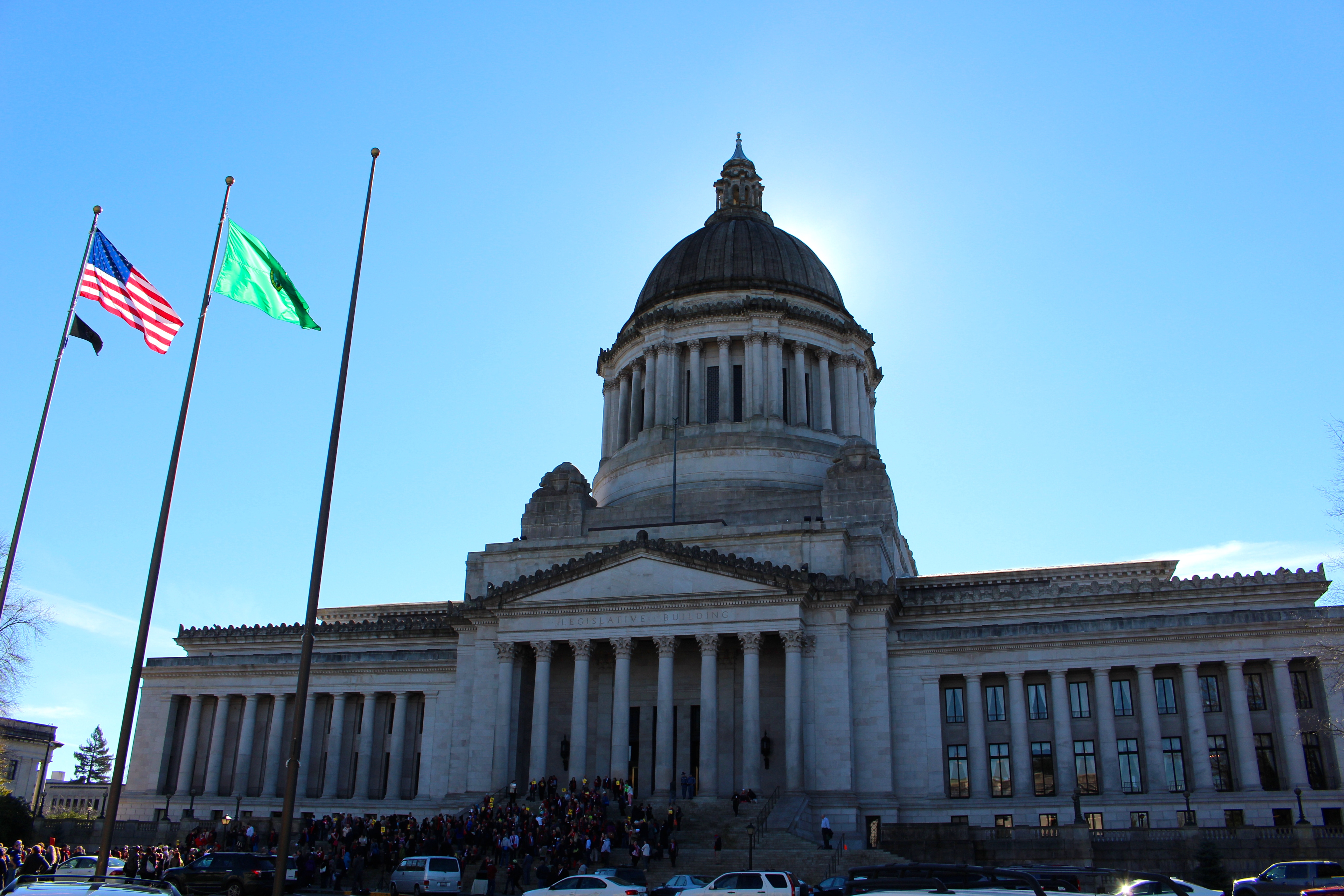 Today marks the end of the sixth week of the 2022 Legislative Session. Specifically, today is day forty of this sixty-day short session – we are two-thirds of the way done!
As discussed above, this past Tuesday, February 15, was the House of Origin cutoff date, which means that bills that didn't get voted out of their house of origin will, in most cases, not be progressing any further this year. This includes some big bills we were hopeful for, specifically House Bill 1904. Once again, we want to thank everyone for their incredible advocacy for this bill – you have all helped lay important groundwork for the fight to get it passed next year. We're also excited to hit the ground running once this session is over in getting housing champions elected into office during the fall, so bills like HB 1904 have a better chance of getting passed next year.
Our work this session is far from over, though – some important bills are still moving! Now that we're moving into the last few weeks of session, cutoff dates are coming up very fast, and we need your advocacy to make sure these important bills get passed.
House Bill 1643, also known as the Real Estate Excise Tax (REET) exemption bill, would create a tax incentive for selling properties to nonprofits, public housing authorities, and government entities to use for affordable housing. This bill had a hearing this week – as always, a big thank you to all who testified! – and is scheduled for a vote next week.
House Bill 1866, also known as Apple Health for Homes, is an extremely important bill that would significantly increase and streamline the production of permanent supportive housing. The bill is scheduled for a hearing on Monday: sign in pro here!
House Bill 1769 is scheduled for a hearing next week, and would eliminate community municipal organizations, which have the power to override City Council ordinances and have a history of opposing affordable housing initiatives. Sign in pro here!
House Bill 1738 will increase the Washington State Housing Finance Commission's debt limit, which will allow the commission to continue to finance affordable housing projects in Washington without impediment. Sign in pro here!
In addition to the bills we support, we would also like our housing justice advocates to sign in con for Senate Bill 5909, which would allow districts to override emergency proclamations from the governor, such as eviction moratoriums.
This is also the time in session when our budgetary asks become most important. The first Capital Budget proposal came out earlier this week, and while it included an unprecedented appropriation for housing during a supplemental budget year, the proposed budget was still significantly lower than both the Housing Action Fund's ask ($500 million) and the Governor's ask ($434 million) for affordable housing, at $361 million total. We're asking lawmakers to raise that budget proposal up to at least the Governor's proposed $434 million.
There are three important budget hearings coming up next week: the House Capital Budget on 1:30pm Tuesday, the Senate Operating Budget on 4:00pm Monday, and the House Operating Budget at 3:30pm Monday. While we're hopeful these budget proposals will include our priorities, such as an increase in the Aged, Blind and Disabled cash grant and $78 million for homelessness and affordable housing service providers, we need more testifiers! If you're interested in testifying at any of these budget hearings, please contact PoL@WLIHA.org.