Why You Should Attend a Town Hall

By Kendra Allman, Community Organizing Fellow
Now that we're just over halfway through the Washington 2022 state legislative session, things are really starting to heat up – this year's most important housing and homelessness priorities need your advocacy! Crucial decisions are being made in the House and the Senate, including allocating funding for affordable housing and passing key bills that would provide critically needed support for Washington renters.
One fantastic way you can make sure your voice is heard is by attending your district's town halls. Town halls are held by state lawmakers to clarify their own positions on key issues, as well as to take questions and hear feedback from their constituents. This is your chance to speak directly to your district's representatives and senators and ask them how they plan on supporting housing justice initiatives.
This year, there's no need to drive to your district offices - town halls are at your fingertips through Zoom or simultaneously livestreamed on Facebook/Twitter/YouTube! If you're not sure what district you're in, you can check here to find out, and check below to see if your district's lawmakers are hosting a town hall soon.
Remember, Washington state lawmakers were elected to represent you, so don't be afraid to ask the hard questions and make your perspective known. Your voice is extremely influential!
Here are some sample questions on the Housing Alliance's legislative priorities to ask your lawmakers:
(Remember to submit questions ahead of time! The earlier the better, because there are likely many people who have questions. If you don't submit a question ahead of time, the lawmakers are less likely to discuss your issue.)
There is a shortage of over 198,000 homes affordable and available to very low-income households, and recent polling shows that 92% of Washington voters say homelessness and lack of affordable housing are critical issues that the Washington State government should address. With a strong economy and nearly $1 billion left in federal COVID funding, we have the resources to address this crisis. Do you support investing $500 million investment in affordable housing?
The Aged, Blind, and Disabled (ABD) cash grant has not increased since it was created in 2011 even though housing costs and the cost of basic necessities have dramatically increased. It is impossible to meet your basic needs on $197 a month. Do you support an increase to the ABD cash grant from $197 to $417 per month?
Our state's ability to prevent and end homelessness rests on the shoulders of nonprofit workers across the state who assist people in crisis, but these workers face hazardous conditions and experience significant trauma while earning low wages. Do you support a $78 million investment to address staffing shortages by providing hazard pay, retention and recruitment bonuses, secondary trauma resources, and other support for these critical frontline workers?
There are currently no limits on how high landlords can raise rents in Washington, and when a tenant can't afford a major rent hike, they often have to move with as little as 60 days' notice. All tenants should be given the needed time to find new housing if their rent increases more than they can afford. How will you vote yes on House Bill 1904, which would require at least six months' notice of significant rent increases?
Paying rent via electronic portals can result in additional fees and can leave tenants vulnerable to errors and hacking, and a requirement to pay rent via electronic portals disproportionately impacts those with limited access to electronic devices and internet. Do you support Senate Bill 5749, which would prohibit landlords from requiring their tenants to pay rent only through electronic portals? (The Senate already passed this bill. This is a good question for Representatives.)
---
Capitol Re-Caps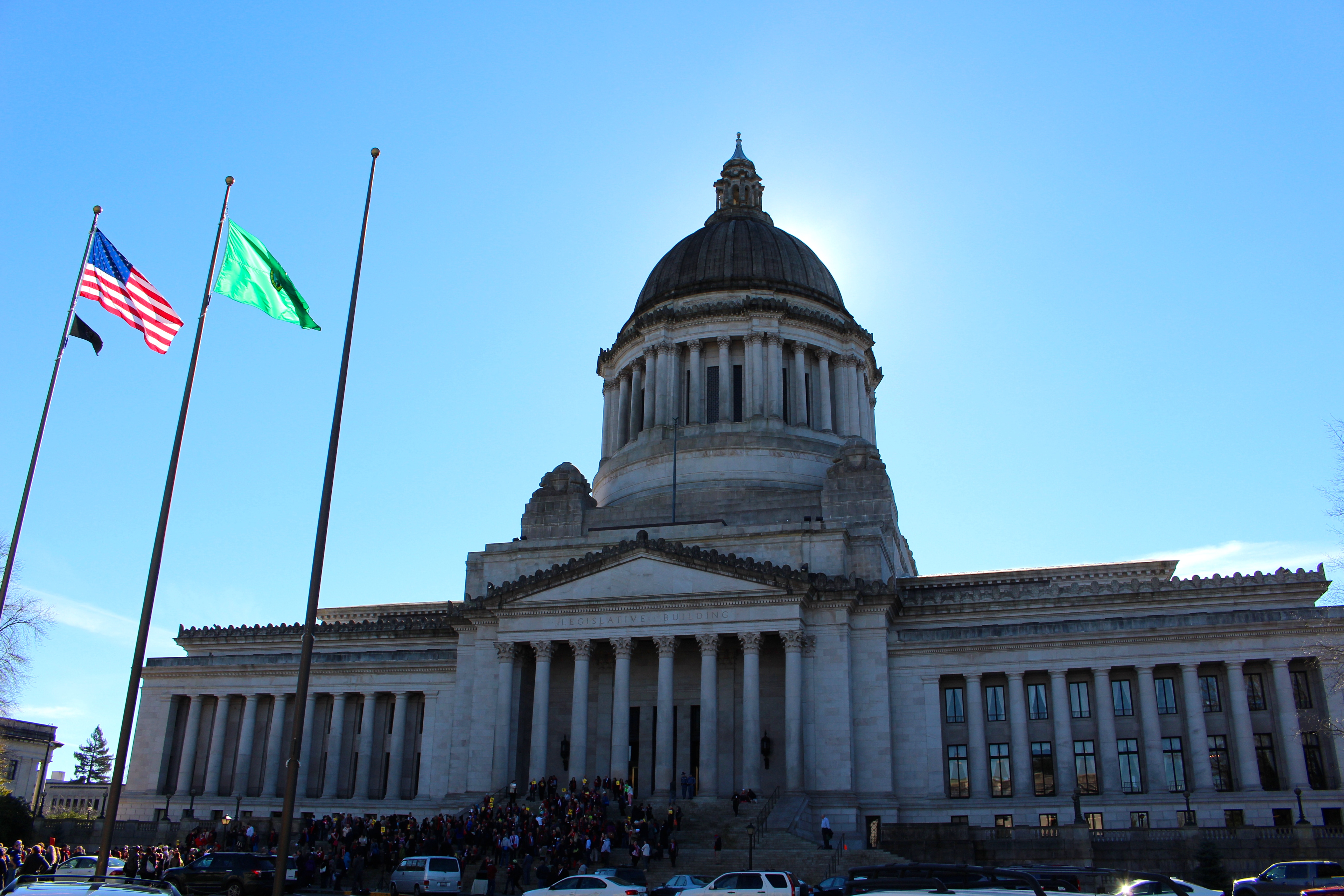 We are a little more than halfway through the 2022 legislative session! Thank you to all of our advocates who've helped us accomplish great things so far. Next Tuesday is a really important day because it marks the House of Origin Cutoff. That means that every bill that started in the House needs to have been voted on the House floor with majority support by all the Representatives so it can move onto the Senate, and every bill that started in the Senate needs to have been voted on the Senate floor to continue the process in the House. Things will continue to move quickly over the next month, so you will definitely be hearing more from us about urgent action alerts.
This week we've been really focused on House Bill 1904, which would require landlords to give 6 months notice of rent increases over 7.5% and allow tenants to leave their lease without penalty if they provide 45-day notice when rent increases occur. HB 1904 was pulled from the Rules Committee last night and put on the House floor calendar, but it is not yet scheduled for a vote. We need your voices on this bill! The opposition is unrelenting and framing this as a rent control bill, which is just not true. Take action now and share this action widely! Even if you've already emailed your House Representatives, they cannot hear from you enough. You can also re-share our posts on Facebook and Twitter to help spread the word!
We're excited to share that Senate Bill 5749 which made it out of the Senate with bipartisan support is already scheduled for a hearing in the House! As a reminder, this bill requires landlords to provide options for rent payment besides electronic portals which can charge outrageous service fees and be inaccessible to unbanked folks and those without reliable access to the internet. Please sign in pro before next Thursday's hearing!
We also have exciting news about our budget priorities-- a majority of Democrats have signed on to our letter requesting $78 million for our frontline homeless service providers, which is a badly needed investment for all of these workers and nonprofits managing and experiencing trauma while being understaffed and underpaid. We are also feeling hopeful about our $500 million ask for affordable housing as well as an increase in the ABD cash grant from $197/month to $417. We might see the first budgets next week, and in fact, the Senate Ways and Means Committee has already scheduled a hearing on the capital budget for Thursday. We will be keeping you updated on any good or bad news and actions you can take to make sure that this uniquely large budget during a supplemental session is used for housing and human services.