Happy Bring Washington Home, 2022!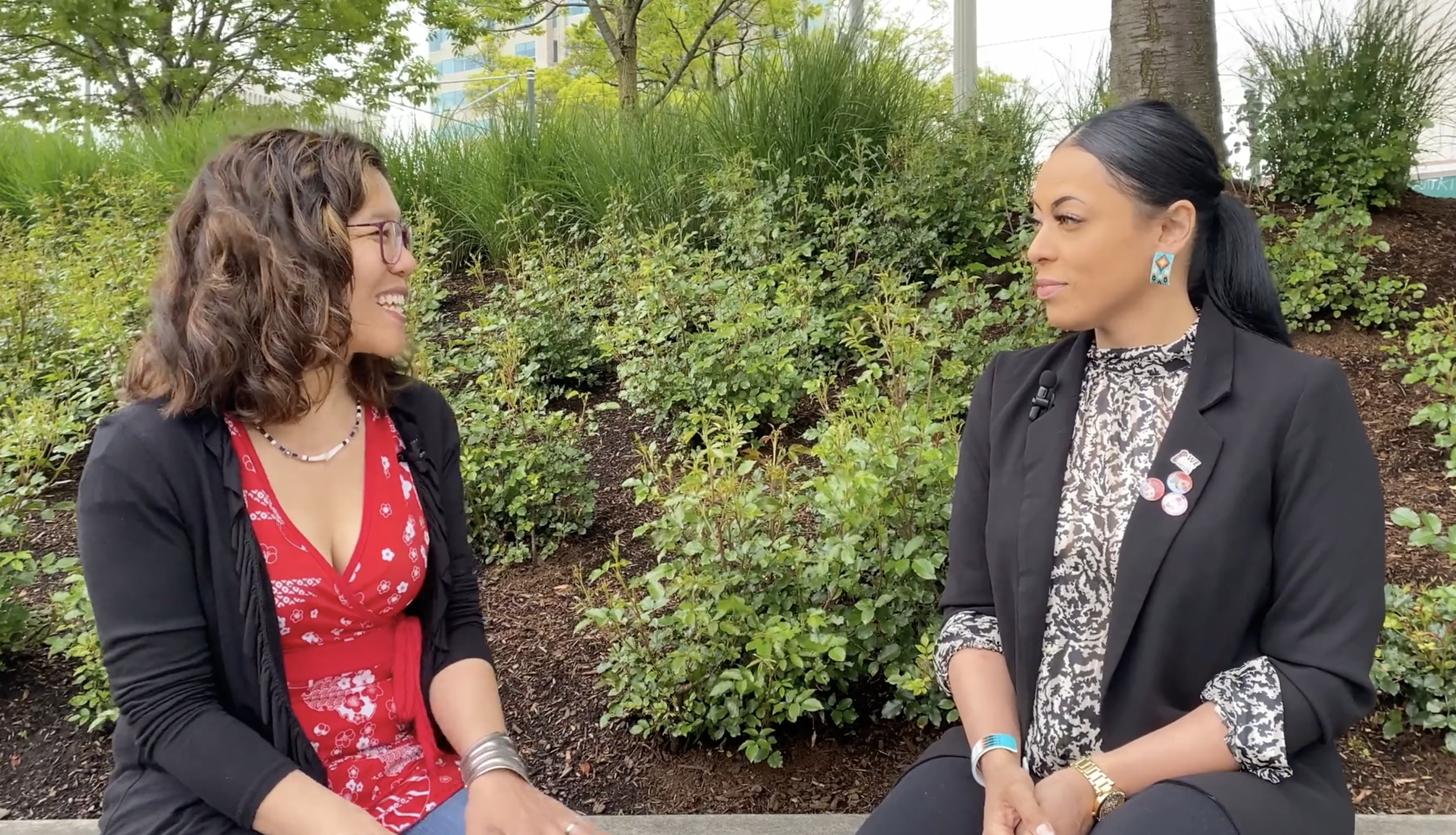 Caroline Lopez (left) talking with Mercedes White Calf (right), recipient of the 2022 Nancy Amidei Movement Builder Award
Written By: Rachael Myers and Kendra Allman
This past Wednesday, we celebrated the Housing Alliance's and Action Fund's 2022 Bring Washington Home! This is our biggest fundraising event of the year, when Washington residents can come together across the state to demonstrate their commitment to ensuring the human right of safe, affordable housing for all. Every year, we mobilize thousands of individuals and organizations, and this year we were so happy to hold a virtual event with our community members, supporters, and fellow housing advocates to celebrate everything we've accomplished.

Rachael Myers (left) introducing Senator Patty Kuderer (right)
As a part of this celebration, we recognized Mercedes White Calf with our 2022 Nancy Amidei Movement Builder Award. Mercedes is an incredible organizer with lived experience of homelessness, who was one of the many voices that spoke out over and over during this past legislative session to get housing justice bills passed, and we feel so lucky to have worked with her! Check out a conversation our own Caroline Lopez had with Mercedes here.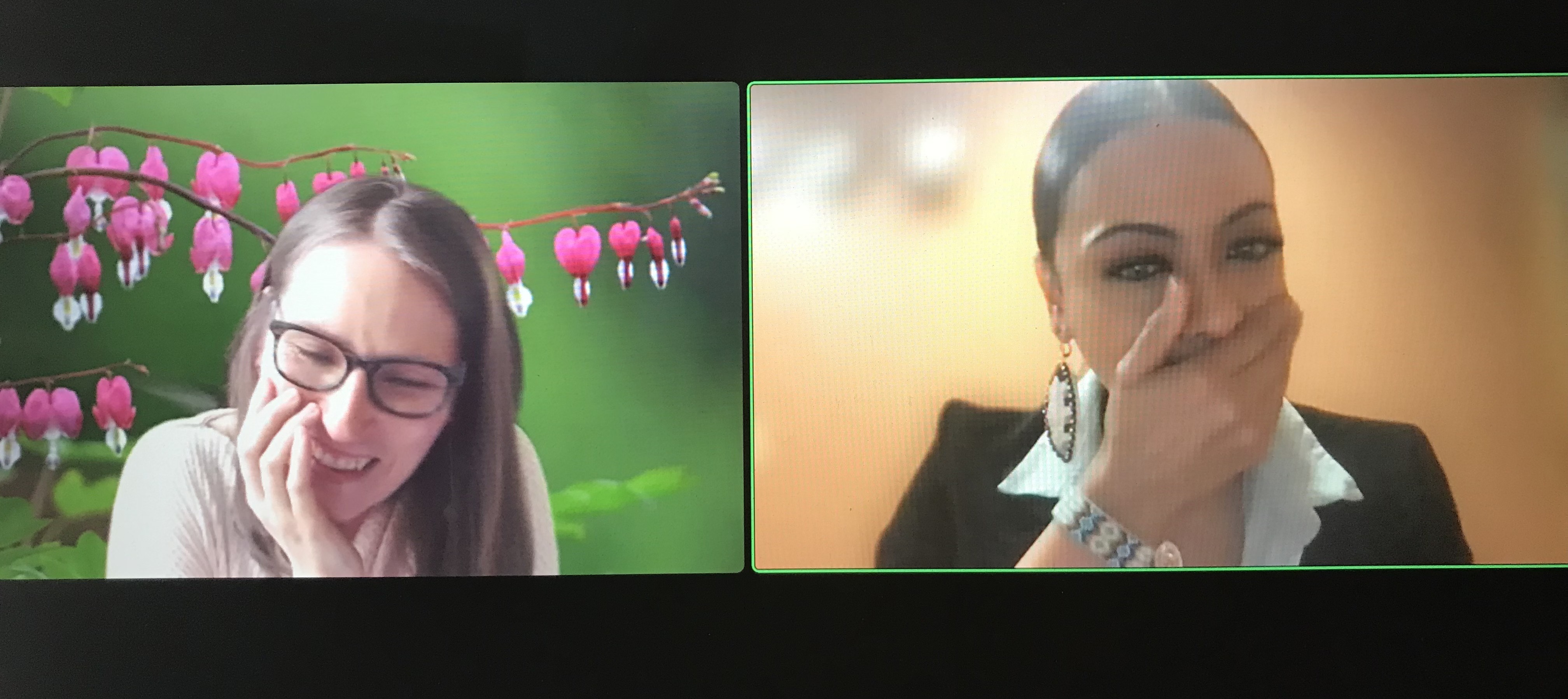 Michele Thomas (left) and Mercedes White Calf (right), giving and receiving the award respectively
Another part of the celebration on Wednesday was the Washington Low Income Housing Alliance's recognition in receiving the 2022 Statewide Organizing Award from the National Low Income Housing Coalition (NLIHC). In recognizing the Housing Alliance, Diane Yentel, president and CEO of the NLIHC, highlighted our work in leading the country in providing protections and resources to keep residents stably housed during the pandemic, as well as setting critical precedents by leading the charge in passing "just cause" eviction protections and guaranteed right to council for evictions in the 2021 legislative session. We are so honored to have received this recognition from the NLIHC, and we're excited to continue our work to have Washington lead the country in bold housing justice policies. Check out what Diane Yentel had to say about why the Housing Alliance received the 2022 Statewide Organizing Award here.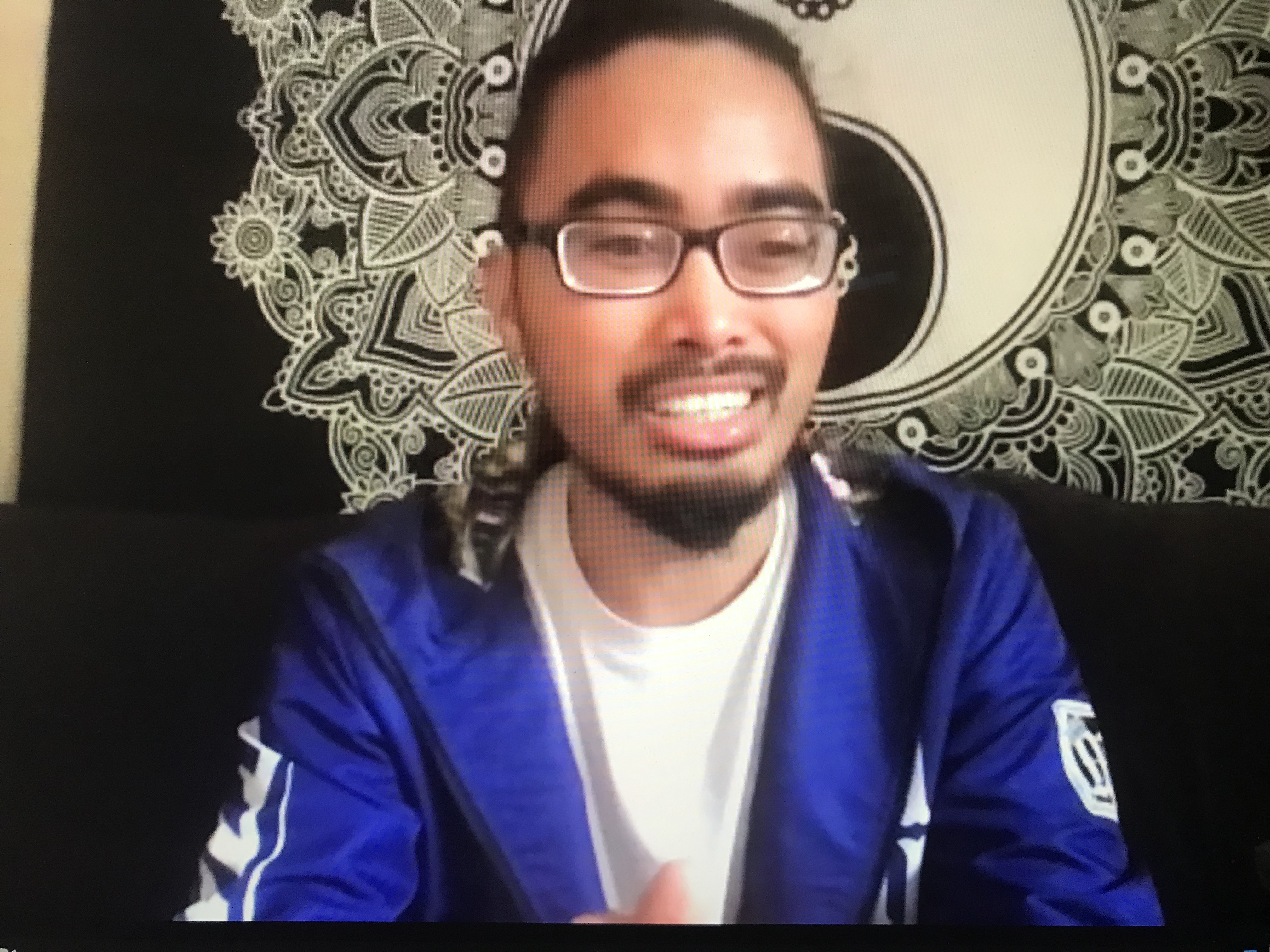 The artist Sabyu, who played songs at the beginning and the end of the event with messages for unity in the community
Thank you once again to everyone who participated in Bring Washington Home 2022 – you're the reason we're able to do this incredibly important work! If you weren't able to join us on Wednesday, you can still catch up by watching the recordings using the above links.
You can still contribute to this year's Bring Washington Home! Click here to donate to the Washington Low Income Housing Alliance and / or Action Fund, or, if you would like your organization to become a sponsor, you can see a full list of sponsor levels and benefits here, pledge your sponsorship support here, or if you're ready, make your sponsorship payment here. You can also contact itzchelb@wliha.org if you have any questions about sponsorship.
We also invite anyone to join us for part two of this annual celebration: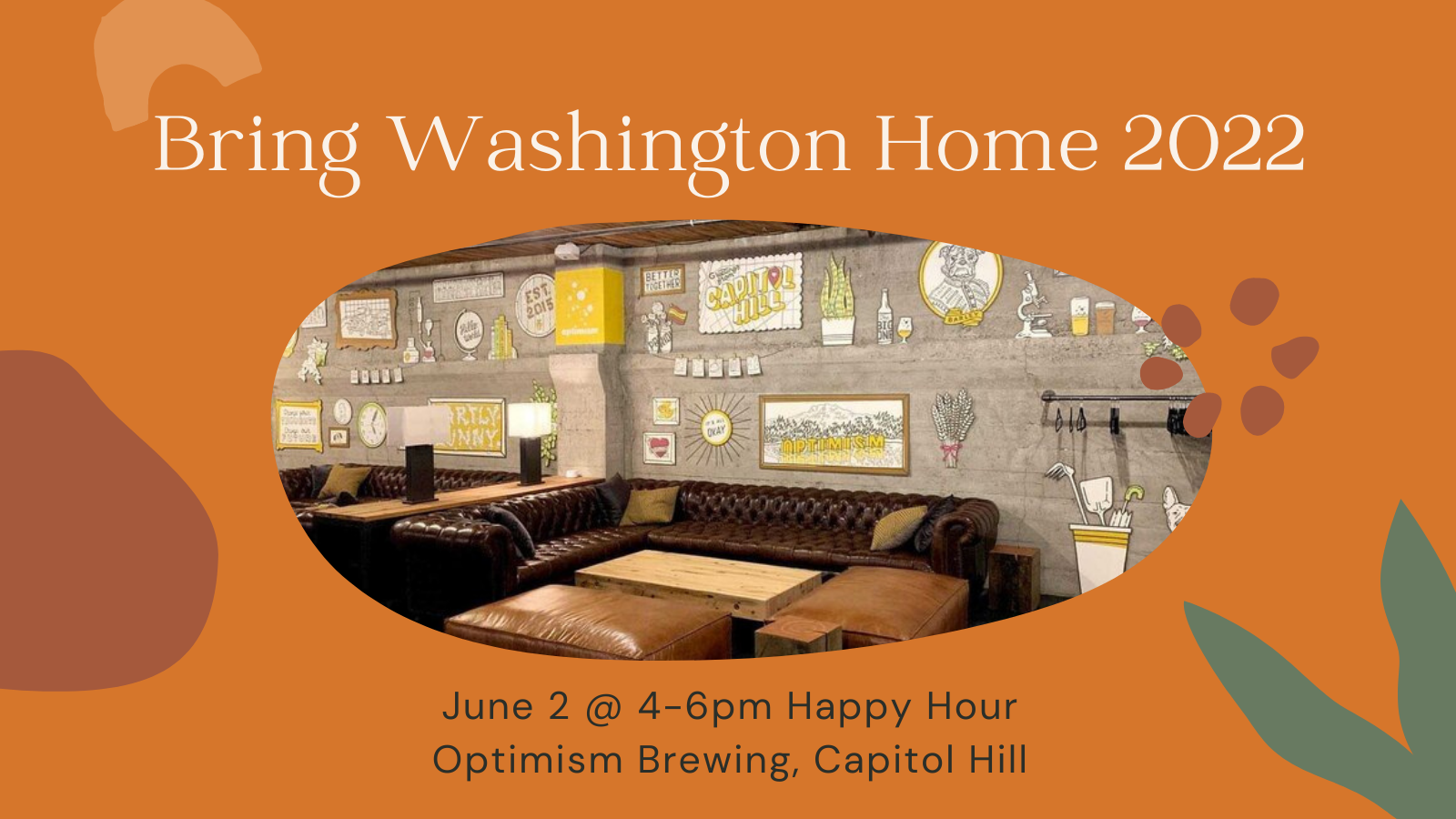 Bring Washington Home, in 3D - Live and In Person - June 2, 4 to 6pm.
Register for an informal happy hour in Seattle to reconnect after so much time apart. This event takes place at Optimism Brewing, on Capitol Hill. The venue has high ceilings, good airflow, and an outdoor courtyard for you to take your conversations if you prefer. We encourage masking indoors when not eating or drinking and will continue to monitor local COVID recommendations.
---
Apply to be Next Year's Washington Housing Alliance Action Fund's Community Organizing Fellow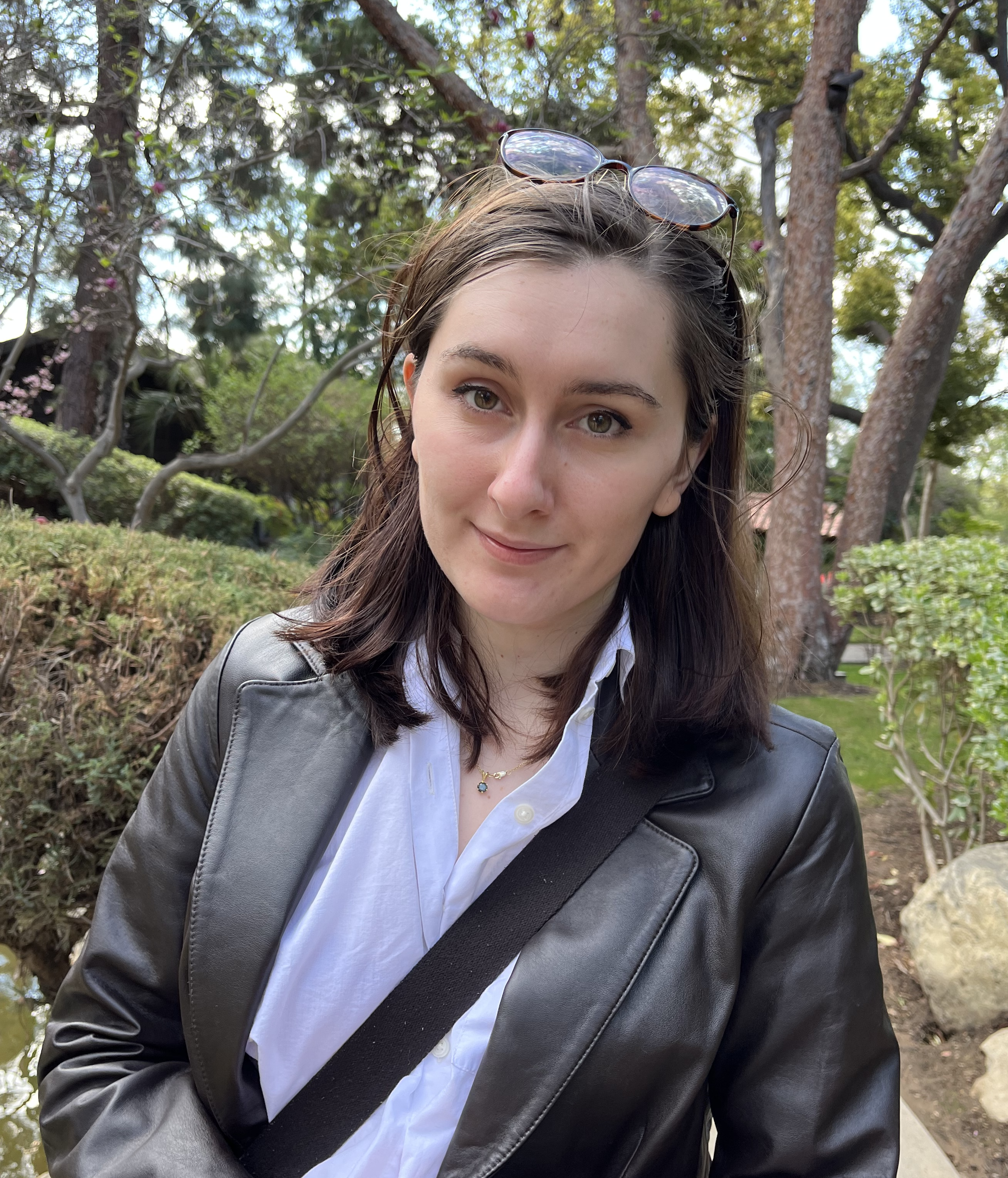 Apply to serve with QuEST as the Community Organizing Fellow at Washington Housing Alliance Action Fund!
Working at the Washington Low Income Housing Alliance and Action Fund has been an invaluable experience. I have learned so much about advocacy and organizing, as well as about participating in a work environment that actively incorporates racial equity and centers the voices of community members most impacted by housing injustice. A wonderful group of coworkers has hugely helped me foster my professional skills, giving me ample space to explore new kinds of tasks and determine what path is best for me. Taking a year of community living with my fellow QuEST cohorts, meanwhile, has given me access to a wonderful community and provided me so many opportunities to pursue personal growth. I would highly recommend any young adult with an interest in advocacy and / or personal growth in a social justice minded community to apply!
- Kendra Allman, current QuEST Community Organizing Fellow at the Washington Housing Alliance Action Fund

Job description:
QuEST is a Quaker-sponsored service year fellowship in Seattle providing recent college graduates and other young adults with professional nonprofit experience, an intentional residential community, and opportunities for training and reflection. QuEST Fellows are matched with one of our partner agencies in full-time year-long positions. The six Fellows live together in a shared house in Seattle's University District and they are provided room and board, a personal stipend, transportation and health care funds, mentorship and training, and student loan support.
QuEST's placement as Community Organizing Fellow at the Washington Housing Alliance Action Fund is open. For more information about QuEST and to download an application, visit this website. The full job description can be downloaded here. Email Promise Partner, Program Director, with questions: director@quest-seattle.org. Applications will be considered as they are received until the placement is filled. The program year runs August 26, 2022, to August 12, 2023.