Representative Image: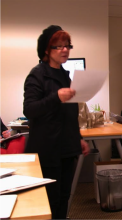 Alouise Urness, Community and Member Organizer
I'd like to tell you about Glenda. Glenda is a graduate of the University of Washington and was a small business owner until her state contract work was suddenly cancelled because of budget cuts. Imagine the shock of running a thriving business, then losing your income source, closing the doors, and laying off your employees in just a matter of days. Glenda ultimately lost her condo to foreclosure and teetered on the brink of homelessness.
Glenda's situation isn't the stereotypical story one usually thinks of when talking about homelessness. In fact, everyone's story is unique and has the potential to change the way people think. That's why lawmakers need to hear Glenda's story and many others.
Please make a year-end gift so that we can help people like Glenda tell their stories and advocate for a home for everyone in Washington. We know that no one can convey the importance of a stable home like someone who's been without one. With your support, we'll continue working with people like Glenda to bring their stories and advocacy talents to the state capitol this upcoming legislative session. They'll help remind lawmakers why our state should invest in opportunities for safe, healthy, affordable homes.
Click here to make your donation of $50, $100, or $250 and support powerful, effective advocacy now.
Today Glenda lives a much simpler life than before she lost her business. And thankfully she has a stable home that she no longer takes for granted. Glenda is also more comfortable speaking up for change, and with your support, we'll continue to support her in doing that. I'm honored to have had the chance to get to know Glenda and excited about helping her share her story to make a difference. I hope you'll consider a gift today to make that possible. Thanks and Happy Holidays! One more thing: Glenda is just one of the many low-income individuals who are ready to speak up and advocate.
Help their voices echo throughout the capitol's chambers by making a gift today.