Representative Image: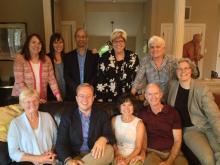 Rachael Myers, Executive Director
Last Thursday, Nathan Schlicher conceded the 26th District state Senate race to Jan Angel. Senator Schlicher was a strong champion for affordable housing and ending homelessness, and we're very disappointed that he won't be returning to the Senate. But we're proud of how our community stepped up to support him. And we're energized by what a difference that support made.
In June, the polling showed that Senator Schlicher was 20 points behind, but as of the last vote tally, he was down by just four points. That's a big gap that we closed! And while it wasn't quite enough, it shows what's possible. Members of the housing and homelessness community made phone calls, knocked on doors, made contributions, and voted for the candidate whose values best matched their own. We demonstrated that our community knows the importance of building political power to achieve a safe, healthy, affordable home for all. Most importantly, we made it clear that when we show up and work with our partners, we can make an impact. Now that this election is over, we're building for next year.
The 2014 elections will determine control of the state Senate and the outcome will impact our ability to secure funding for the Housing Trust Fund, homelessness services, and much more. Some of our strongest champions are in swing districts, and they'll need our help to keep their seats. Other lawmakers who have blocked our progress will be opposed by candidates who share our values. We're developing a campaign plan for 2014 and beyond, to make sure we have the strategy, the people power, and the financial resources to make an affordable home for all a priority in campaigns and a priority in the state legislature. There will be plenty to do, first during the upcoming legislative session and then as the 2014 elections pick up. We'll be in touch regularly to let you know how you can help.
For now, I hope you'll help build our power by joining us as a member of the Housing Alliance Action Fund.
Visit this page to make sure you're counted as a member. Onward!