Here is a quick timeline of what has happened over the last few
days regarding the state budget and homelessness programs:
The House passed a new budget late last week that significantly scaled back their spending and revenue. This budget still protects the Housing and Essential Needs program; the Aged, Blind & Disabled program; and the Consolidated Homeless Grants, but takes significant funding away from the Capital Budget. The impacts on the House Capital Budget proposal are not yet known.

The House also introduced a bill last week, HB 2069, that aligns Housing and Essential Needs and the Aged, Blind & Disabled programs with Medicaid expansion. It passed the House with significant bipartisan support and is now awaiting action in the Senate.

The Senate passed a new budget last weekend that still includes the significant cuts to affordable housing and homelessness programs that would cause at least 20,000 people to become homeless. The good news is that the vote on the Senate's new budget was a lot narrower, with many who initially voted yes on the first Senate budget voting no this time around. This includes Senators Eide, Fraser, Hargrove, Hatfield, Mullet and Nelson all changing their votes. Senator Hobbs was excused.

Early this week, the Senate acted on some revenue bills that would restore funding to Housing and Essential Needs and the Aged, Blind & Disabled program (SB 5873), but don't restore cuts to the Consolidated Homeless Grants. These revenue bills are being held hostage in exchange for politically divisive "reform" bills that the Senate wants, including a new tax cut for millionaires (SB 5872).

Also early this week, the House passed a Capital Budget that only includes reappropriations of previously allocated capital funds to ensure that projects like parks and infrastructure improvements can keep going into the new biennium which begins July 1. There is no agreement between the House and Senate on the Capital Budget yet.

The Governor held a press conference recently, in which he said it was a shame that the Senate is holding the state budget hostage in order to secure tax cuts for millionaires. He also announced a second special session and that his office is planning for a possible government shutdown which would occur if there is no agreement reached by July 1.

The Senate Majority Coalition Caucus continues to come under scrutiny as they insist on holding a budget deal hostage in exchange for passing destructive and politically divisive bills dubbed "reforms", including a predatory lending bill SB 5312.
Spotlight on Majority Coalition Chief Budget
Writer Senator Andy Hill (45th-Woodinville)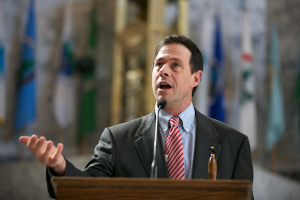 The Washington Housing Alliance Action Fund believes that everyone should have the opportunity to live in a safe, healthy, and affordable home. But, if some of the most powerful members of the State Senate have their way, homelessness will double in Washington.
As the chief Senate budget writer, Senator Andy Hill holds significant decision-making power over how our state will treat the most vulnerable among us.
But if Senator Andy Hill's budget becomes law, more than 20,000 people across Washington will experience homelessness within the next two years. This estimate comes from the fact that emergency shelters, youth shelters, domestic violence shelters, rent assistance, and more would be cut by 50%. Also, the Housing Trust Fund, Washington's primary tool for building new affordable housing, would be grossly under-funded.
Tell Senator Hill to write a budget that reflects your values - not one that puts more than 20,000 people on the streets to suffer the brutality of homelessness.
Our lawmakers are still in special session and Senator Hill has the opportunity to do the right thing. He can choose to invest in affordable homes and to protect the programs that keep people off of the streets.
Click here to quickly and easily send an email to Senator Hill telling him exactly that.