Representative Image: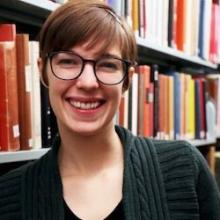 Kristina Nielander, Voter Engagement Organizer
Hi, everyone! I just began my year-long internship with the Washington Housing Alliance Action Fund, and I couldn't be more excited! I graduated from the University of Kansas in May with degrees in Anthropology and Global and International Studies. During my time at KU, I became frustrated with systemic injustice in the U.S., especially with issues surrounding poverty, homelessness, discrimination of all kinds, and the overall disparity of opportunity between people from different socioeconomic classes.
As I considered my post-graduation plans, I wanted to spend my days working to deconstruct structural barriers that produce and reinforce oppression, which - of course - includes much of current public policy or lack thereof. When I saw the mission statement for the Housing Action Fund, I knew it was an organization that I wanted to work with. I feel that the organization's big-picture, systemic approach is key to making a positive shift in the lives of many and in communities. As with any movement, it must start on the ground! Days ahead include door knocking, phone banking, and conversations with folks about policy. I'm looking forward to learning how best to communicate the importance of policy to voters and promote community empowerment through civic engagement. As I gain experience in the field, I hope to learn more about advocacy in practice and the legislative process.
I feel like this opportunity is the perfect fit for me at this point in my life. I'm passionate about social justice. I believe social justice can only be achieved if we change the structure of the society in which we live, reflect on those changes, and work to make those changes even better. And I get to spend the next year learning about the challenges and triumphs of effecting change through policy.
...I'm ready!
To start, I am working to organize volunteers in support of Carol Gregory's campaign in the 30th legislative district. Rep. Gregory supports many of our issues; her voice is needed in Olympia! Election Day is fast approaching. If you are interested in phone banking or door knocking for the campaign, please contact me at kristinan@housingactionfund.org. I look forward to working with many of you this year!