We appreciate the words from Rep. My-Linh Thai in response to the brutal hate crime in Atlanta: "To stop Asian hate, we must write laws that dismantle white supremacy. We must reimagine public safety to support the movement for Black lives. And we must end violence against all communities of color by protecting the right to housing, supporting low-income families, and shutting down the Northwest Detention Center." Read her full statement.
We are saddened and angered by this violence and are committed to working with Rep. Thai and others in our community to breakdown systemic racism and white supremacy in Washington and our nation.
---
Housing Champion Focus: Representative Debra Lekanoff from the 40th Legislative District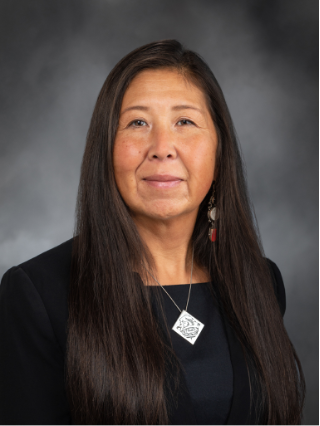 Since her election in 2018, Representative Debra Lekanoff has brought her wisdom, strength, persistence, history, compassion, and community to the capitol. As one of the few Native Americans in the history of the state legislature, the Representative holds a unique perspective when advocating for affordable housing and homelessness. "Housing is a human right and a life-sustaining necessity, and it is our responsibility as a state to step up and care for our most vulnerable populations."
During the Action Fund's 2021 Housing and Homelessness Advocacy Days, Rep. Lekanoff organized a housing townhall to discuss the housing crises and learn from constituents from her district. This was one of many such housing town halls she has organized. "We must focus on creating partnerships to build across the housing spectrum and decreasing barriers to reduce cost, increase access, and improve efficiency. We must work with our cities and counties, our businesses and industries, our affordable housing advocates, and our service providers so that everyone has access to a place they can call home no matter their background, income, identity, or situation."
As she said during her campaign, "We are facing an unprecedented opportunity to rethink our systems, the way we do business, and how we structure policies. It is essential that we build coalitions to achieve equitable policy outcomes across Washington State, and these diverse coalitions are more important than ever as we work together to figure out how best to reopen our economy and make sure people have access to housing they can afford."
Rep. Lekanoff works from a place of inclusion, collaboration, and the clear understanding that people live multi-issue lives. "This pandemic is forcing us to look at the roots of injustice ingrained in our society, and we have a real opportunity to create a new post-pandemic normal and prioritize equitable access to opportunities and services. We cannot separate affordable housing from healthcare, workers' rights, access to clean water, and the right to a healthy environment." The systems that have marginalized Indigenous and communities of color are being challenged by newer lawmakers, such as Rep. Lekanoff, who can speak on the direct impact policies have on low-income communities. This year, Rep. Lekanoff is the primary sponsor of HB 1072 which is on the Housing Alliance support agenda. This bill removes the restrictions on the use of state funded civil legal aid funds for undocumented immigrants. These dollars provide critical funding for legal assistance for people facing eviction, garnishment of their wages, labor disputes, wrongful denial of public benefits, and more. "By singling out one group of people, we are telling them that even though they are protected by these laws, they will not get the help they need to enforce their rights under them. In short, the provision systematically denies equity and access to justice to immigrants."
The Housing Alliance Action Fund thanks Representative Lekanoff for her work!
This SATURDAY the 40th LD is holding a Virtual Town Hall! We hope you will join Rep. Lekanoff, Rep., Ramel and Sen. Lovelett @ 11:30am.
There are several ways to tune in: the event will be live-streamed to Rep. Lekanoff's legislative Facebook page, to the House Democrats Facebook page, to the House Democrats Twitter feed, and to the House Democrats YouTube channel. Submit housing questions ahead of time here.
*Housing Advocates* Check out the Washington Low Income Housing Alliance's blog post on the importance of attending Mid-Session Townhalls to see sample housing and homelessness policy questions you can ask.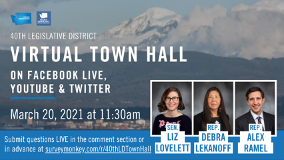 ---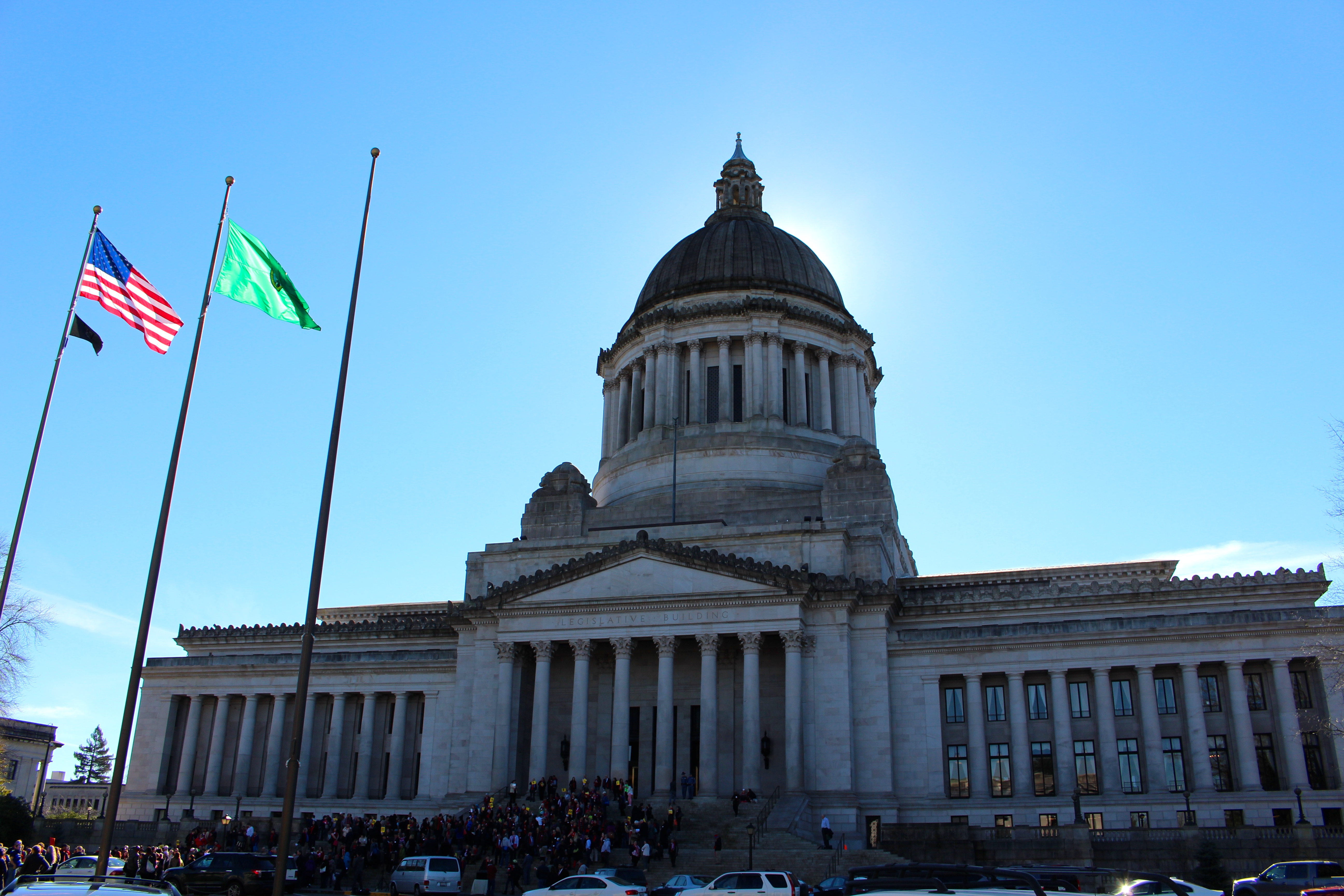 Week 10 has been action-packed, more so than arguably any other week this session! And it's all great news!
On Monday, HB 1277, our rental assistance bill, had a hearing in House Appropriations, and several advocates delivered excellent testimony, including Tara from the Bellingham Tenants Union and several progressive realtors in favor of increasing the document recording fee to support renters! Fast forward to Thursday, and HB 1277 passed out of committee by a 21-11-1 vote. Next stop for this bill = Rules Committee and a floor vote in the House!
Our movement for housing stability would not rest, as Tuesday morning at 8am immediately brought us a hearing on SB 5160, the eviction prevention bill, in the Housing, Human Services & Veterans Committee. Not only did we outnumber the opposition with sign-ins, but the number of those testifying Pro tripled those who testified Con. This is what a deep and sustaining movement looks like! We were delighted that Mayor Penny Sweet testified on behalf of the City of Kirkland as well as the Association of Washington Cities. Huge shoutouts go to Liliana, Arianna, and all the tenants speaking up to share their truths! Thanks to Alicia and Ashok for proving that landlords too can be big supporters of tenant protections! And thank you to Max from Washington Physicians for Social Responsibility for making the health connection with housing.
Massive news on HB 1236! Thursday morning it passed out of committee on a 5-4 vote with no significant amendments. Advocates across the state stepped up this week to share their stories and contact their lawmakers, and as we know, advocacy works! Major shoutouts to advocates and organizers who helped make sure committee members heard about the importance of this bill! Next stop for HB 1236? It will move to the Rules Committee to be queued up for a final vote on the Senate floor.
HB 1220 was also heard in the Housing and Local Government Committee on Thursday, following the great news on HB 1236. HB 1220 has not yet been scheduled for a vote.
Last -- and CERTAINLY not least -- Governor Inslee extended the eviction moratorium through June 30th, giving renters more time to catch up on rent and maintain a stable home as the legislature enacts and implements these bills.
---