Housing Champion Focus: Senator June Robinson of the 38th District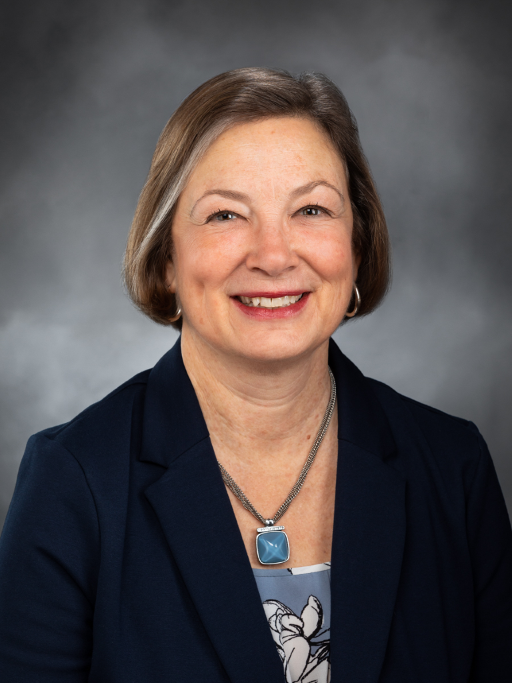 With years of experience in public health, Senator June Robinson of Legislative District 38 understands the devastation that the coronavirus has had on the health of Washington residents and the necessity for non-congregate homes and shelter over this last year.
Senator Robinson was a member of the Washington Low Income Housing Alliance board when she first entered the House of Representatives in 2013. In May 2020, she was appointed to the Senate and then won the election for her seat last November. Her life-long commitment to public service has been steeped in public health, from being a Peace Corps Volunteer to her current position with Seattle and King County Public Health. The Senator understands that without a home to heal and rest, people will struggle to move in any significant way toward health and well-being. In order to have a home, we need just policies and progressive funding options that will significantly address the housing crisis in our state.
This year, Senator Robinson is the primary sponsor of SB 5096, which helps address our upside-down tax code by taxing capital gains over $250,000. Currently, people in our state earning the lowest incomes pay about 18% of their income in taxes, while the wealthiest pay just 3%.
According to a press release last month Sen. Robinson said, "We heard great feedback from community members across the state, in large part thanks to remote testimony making it easier for folks to weigh in," she said. "By raising the threshold and expanding exemptions, this capital gains proposal would increase the share of state taxes paid by just 2% of the very wealthiest Washingtonians. It's a reasonable way of asking those wealthy few to join the rest of us in building a stronger, healthier state for all Washingtonians – a state in which they have thrived."
"This is a key first step," Robinson said, "toward a more fair and equitable tax system – one that asks the wealthiest among us to be part of investing in our state's thriving future; one that fosters, not stifles, a flourishing economy and the health and success of all Washingtonians."
The bill passed the Senate last weekend and will have a hearing in the House next week.
As the Vice-Chair of Operating & Revenue for the Senate Ways & Means Committee, Senator Robinson brings a wealth of housing and homelessness expertise into that key committee. The Senator helped make sure SB 5160/Kuderer passed out of the Senate Ways & Means Committee. SB 5160 offers tenant protections during and after public health emergencies, provides right to counsel/legal representation for people facing evictions, and authorizes landlord access to rental assistance programs. This bill is critical in making sure that thousands of people don't lose their homes when the eviction moratorium ends.
We would be making far less progress changing affordable housing and homelessness policy without champions like Senator Robinson, who can clearly explain the necessity of these crucial bills for the health and well-being of Washington residents to lawmakers who may not have the same background knowledge.
We are immensely fortunate to have Senator Robinson fighting for everyone in the state to have a safe and stable home! We look forward to celebrating more wins in April!
For more information, visit Senator June Robinson's website.
---
Why You Should Attend a Mid-Session Town Hall
By: Mary Zhou, Community Organizing Fellow

Now that we're halfway through the Washington state legislative session (which runs from January 11 to April 26), the need for housing and homelessness advocacy is important as ever. Crucial bills are moving into the House or Senate - ensuring just cause for evictions, building a state rental assistance program, and providing legal representation for tenants facing eviction. And the state's two year budget is being written. Our legislative priorities are not only an important offramp for when the current eviction moratorium expires, but will also help ensure safe and affordable housing for Washingtonians in the long-term.
Where do you and town halls fit into this?
Town halls are your chance to directly ask questions of your district representatives and senators. State lawmakers hold these sessions to clarify their positions on key issues and to understand what their constituents (you all!) find important as they vote on legislation.
This year, there's no need to drive to your district offices - town halls are at your fingertips through Zoom or simultaneously livestreamed on Facebook/Twitter/YouTube. Your voice is influential! Your legislators were elected to represent you, so don't be afraid to ask the hard questions and make your perspective known.
Town Hall Tips
Submit questions ahead of time! The earlier the better, because there are likely many people who have questions. If you don't submit a question ahead of time, the lawmakers are unlikely to discuss your issue!
Give context for questions and strategize for your district - see below for support!

*Sample questions:
Housing Stability
Rental assistance must be coupled with additional protections for tenants during and after the coronavirus pandemic. How will you be voting on Senate Bill 5160 to keep families in their homes? (The Senate has already voted on this bill, so this is a good question for House members. You can thank your Senator if they voted yes. Roll call vote can be found here.)
Because people of color are more likely to work the types of jobs most impacted by COVID-19, are more likely to be renters, and were more likely to be struggling to afford housing even before the pandemic, people of color are disproportionately behind on rent. Do you support House Bill 1277 to create an ongoing rental assistance program to ensure that renters can get caught up on rent and not risk eviction?
Landlords in Washington can evict a tenant with just 20-days' notice, even if they have never violated the terms of their lease and never paid rent late. What are you doing to support and promote House Bill 1236, requiring landlords to have "just cause" for evictions? (The House has already voted on this bill. You can thank your Representative if they voted yes. Roll call vote can be found here.)
Capital Budget
Even before the pandemic, there was a shortage of over 195,000 homes affordable and available to very low-income households in Washington. Will you support $240M for the Housing Trust Fund?
The National Preservation Database shows that over 1700 publicly funded affordable homes are at risk of being lost. Will you support $10M for preserving affordable housing?
Since the start of the pandemic, the state has lost emergency shelter capacity because of social distancing requirements and volunteers being unable to safely help. Meanwhile, shelter providers have innovated with non-congregant shelter models that indicate improved outcomes for guests. We should be scaling this up. Will you support $70M for rapid acquisition of property for shelter, transitional, and permanent supportive housing? Will you support $40M for enhanced shelter capacity grants?
Progressive Revenue
Do you support fixing our state's inequitable tax code so that the lowest income people don't pay more than the top 1%? How do you plan to vote on SB 5096, Capital Gains tax? (The Senate has already voted on this bill, so this is a good question for House members. You can thank your Senator if they voted yes. Roll call vote can be found here.)
*For detailed explanations of Capital Budget priorities, progressive revenue, and the listed bills please see our 2021 Policy Priorities page.
---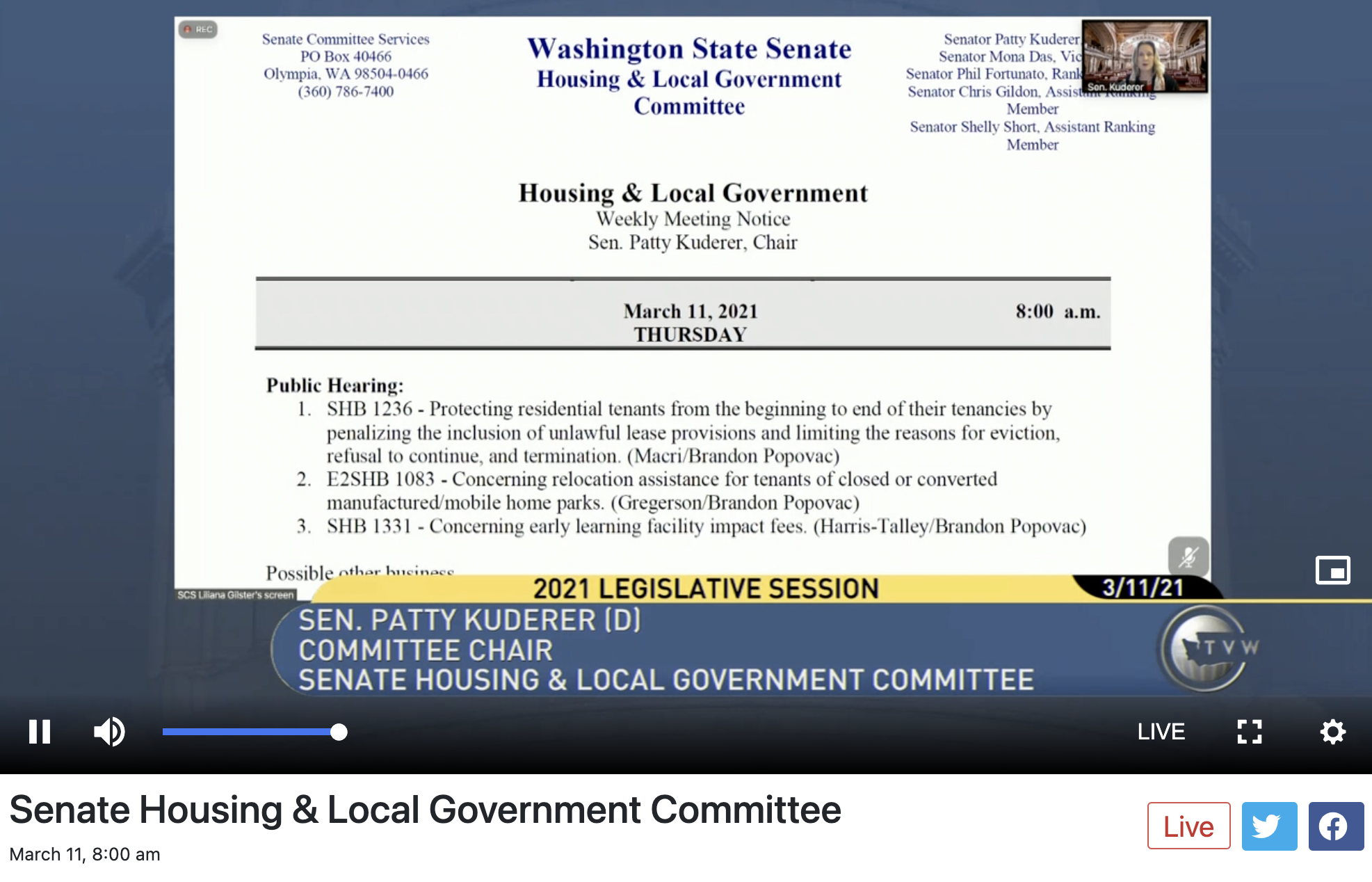 WOW – what a start to the 2021 Legislative Session! We are now halfway through, and we have optimism about the status of the housing justice agenda! We wouldn't be where we are without your strong advocacy, but we still need your involvement. To keep these bills top-of-mind, our lawmakers need to keep hearing that affordable housing and homelessness prevention is a top priority for Washington!
On Thursday, HB 1236 (just cause eviction protections) was heard in the Senate Housing and Local Government! We had nearly 40 advocates sign in to testify, and over 700 people signed in Pro! We had local city councilmembers, impacted tenants, AND landlords sign up to share why just cause protections are so important. It is clear that our statewide movement is growing, and we need your help to get this bill out of committee.
Meanwhile, checkout where our priority bills are in the legislature and take action to ensure that they keep moving!
Lead Agenda Updates:
HB 1236/Macri - Ensures that landlords cannot evict a tenant without having a legitimate reason for doing so. Passed House! Held a hearing in the Senate Housing and Local Government Committee on Thursday, 3/11 at 8am. Next it needs a vote by the committee
HB 5096/Robinson - Capital gains tax. Passed Senate! Be on stand by for action!
SB 5160/Kuderer - Provides legal representation for tenants facing eviction, payment plans for tenants unable to pay rent during the pandemic and other key reforms to the eviction process. Passed Senate! Be on stand by for action!
HB 1277/Ormsby - Creates a new eviction prevention rental assistance program, funds operations for permanent supportive housing, and also funds the Landlord Mitigation Program. This bill is NTIB "necessary to implement the budget" and is alive and well. It has a hearing scheduled in the House Appropriations Committee on Monday March 15 at 3:30.
HB 5279/Robinson - This is the companion to HB 1277 and is also "NTIB".
Budget Updates:
The budgets will likely be out next week – stand-by for specific actions and in the meantime let lawmakers know that they should prioritize affordable homes and housing stability in the budget by taking action HERE.
Support Agenda Updates:
HB 1054/Johnson - Establishing requirements for tactics and equipment used by peace officers. Passed House! Scheduled for public hearing in the Senate Committee on Law & Justice on 3/11 at 10:30 AM.
HB 1070/Ryu - Modifying allowed uses of local tax revenue for affordable housing to expand the allowable use of the funds to clearly include acquisition of existing structures. Passed House! Had a robust public hearing in the Senate Committee on Housing & Local Government on 3/10.
HB 1078/Simmons - Restoring voter eligibility for all persons convicted of a felony offense who are not in total confinement under the jurisdiction of the department of corrections. Passed House! Had a hearing on 3/10 and is scheduled for executive session (a vote) in the Senate Committee on State Government & Elections for 3/12.
HB 1220/ Peterson - Supporting emergency shelters and housing through local planning and development regulations. Passed House! Needs to be scheduled for a hearing in the Senate.
HB 1267/Entenman - Concerning investigation of potential criminal conduct arising from police use of force, including custodial injuries, and other officer-involved incidents. Passed House! Needs to be scheduled for a hearing in the Senate.
In addition to the updates above, you can track the progress of many relevant bills through the Washington Low Income Housing Alliance's online bill tracker, and learn about our legislative priorities here.
Upcoming Advocacy Opportunities:
Join affordable housing consortia across the state for a Week of Action NEXT WEEK! Learn more and sign-up HERE.
HB 1277 has a hearing on Monday, March 15 at 3:30pm in House Appropriations. Sign in Pro here!
SB 5160 has a hearing on Tuesday, March 16 at 8:00am in the House Housing, Human Services and Veterans Committee. Sign in Pro here!
---
On to the Senate! Help HB 1236 pass out of Committee
HB 1236/Macri (just cause protections) passed the House on Sunday, and it's already been scheduled for a hearing in the Senate Housing and Local Government Committee on Thursday, March 11 at 8am! We need a strong showing of emails and sign-ins on the bill. Will you help by sending an email today?
HB 1236 requires landlords to have a legitimate business reason to evict. This bill helps us achieve our goal of improving housing stability by closing loopholes that currently allow landlords to get around all tenant protections. Further, HB 1236 is critical in order for rental assistance to work – without it, landlords can cash a rental assistance check one day, then evict a tenant the next.
The no-cause eviction notices that landlords are allowed to issue (once the moratorium is over) weaken other critical tenant protections including fair housing and retaliation protections. When tenants assert their rights, landlords can respond with no-cause notices to vacate. No-cause notices also allow landlords to hide discriminatory motives. And we know discrimination is all too common.
We've got momentum! Now let's get HB 1236 passed out of committee!