Housing Champion and Bill Highlight: Representative Hackney's HB 2023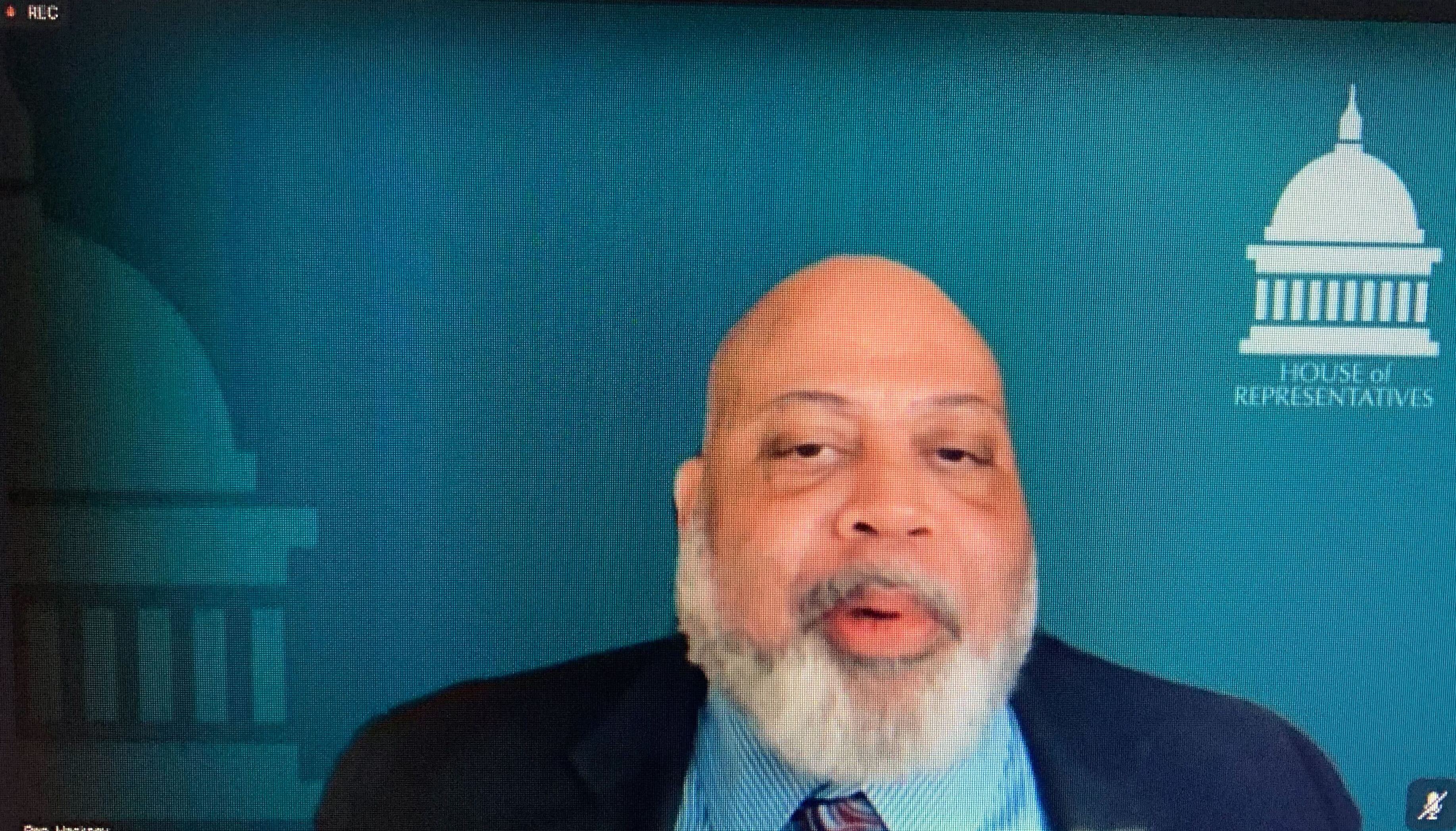 Representative David Hackney introduced HB 2023 during this morning's hearing.
By Kendra Allman, Community Organizing Fellow
This week, we're highlighting Representative David Hackney of the 11th district and House Bill 2023. Growing up in an economically disadvantaged family of color, Rep. Hackney understands the need for sweeping reform in order to uplift Washington's most vulnerable communities, and since his election into office in 2020, he has worked hard to fight for policies that promote housing justice.
We're so excited about Rep Hackney's work this session because we know that the passing of HB 2023 will make a powerful push toward stronger rental protections in Washington, specifically by granting mechanisms to enforce the Residential Landlord-Tenant Act. While landlords have access to a quick and efficient process to evict tenants who violate the terms of their lease – just 28 days from the start of paperwork to the eviction of a tenant! – tenants lack the same judicial mechanisms to hold landlords accountable for abusing their power or failing to uphold their own basic legal responsibilities – even responsibilities as fundamental as ensuring that the tenant's home is livable. Those at immediate risk of harm from a landlord, such as being subject to a wrongful eviction or another form of destructive and often discriminatory retaliation, often have no easy avenue to advocate for their legal housing rights in court. This situation generates a severely unbalanced power dynamic which further enables landlords to abuse their power. As always, this places low-income households, households of color, and households of undocumented immigrants in a disproportionately vulnerable position.
House Bill 2023 seeks to remedy this aspect of housing injustice by creating an accessible and streamlined process for tenants to bring their landlords to court in the case of a violation of a tenant's protections under the law. Under this bill, tenants will be able to file a petition to have a hearing with their landlord scheduled within just 14 days, and the court will have the authority to determine whether a tenant deserves monetary compensation for the harm inflicted by a neglectful or abusive landlord. A process like this that presents irresponsible and abusive landlords with swiftly enforced legal repercussions will work toward discouraging routine abuses of power. Similar statutes have been put in place in states like Maryland, Connecticut, Virginia, Texas and Minnesota (and others!) to great and apparent effect.
The hearing for this bill occurred just this morning, where we heard some extremely powerful testimonies from renters on why this bill is critical for the basic health and safety of Washington tenants. People came forward to share harrowing stories about instances of extreme harassment from landlords, as well as some downright dangerous living conditions they are forced to live in due to abject landlord irresponsibility, including extreme mold and waste flooding that tenants have had to pay out of pocket to fix themselves. Multiple people testified that their landlords had threatened to call immigration on a tenant, demonstrating the acute vulnerability experienced by undocumented immigrants especially in these situations. While those advocating on behalf of landlords claimed that tenant protections are enough as they are, this is blatantly false – House Bill 2023 is very clearly direly needed, and we're excited to keep fighting for this bill to get passed!
We want to give a huge thank you to all the brave renters who testified today and a huge thank you to Representative Hackney for supporting this critical bill!
---
Events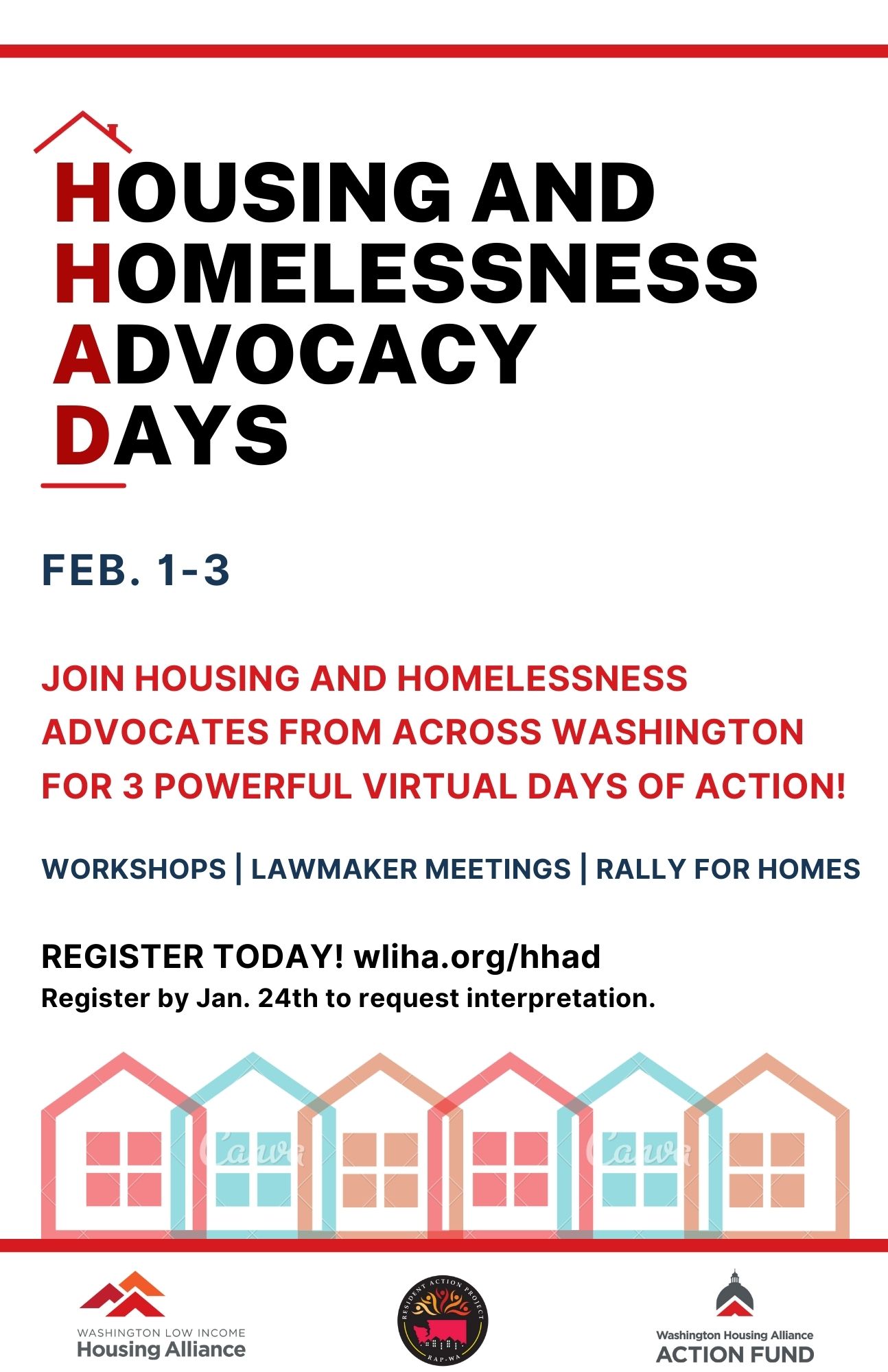 #HHAD2022 is less than a week away! If you haven't registered yet, there's still time! Be sure to register now! If you want to learn more about the event, check out last week's blog for a scheduling sneak peek and a list of our workshops!
Town Halls
Now that we're at the end of week three of the legislative session, things are ramping up, and town halls are an important place to use your voice to advocate for housing justice! Town halls are your chance to directly ask questions of your district representatives and senators. State lawmakers hold these sessions to clarify their positions on key issues and to understand what their constituents find important as they vote on legislation.
If you're not sure what your district is, you can check here to find out!
Upcoming 2022 Virtual and Telephone District Town Halls (from the Washington State House Democrats website)
---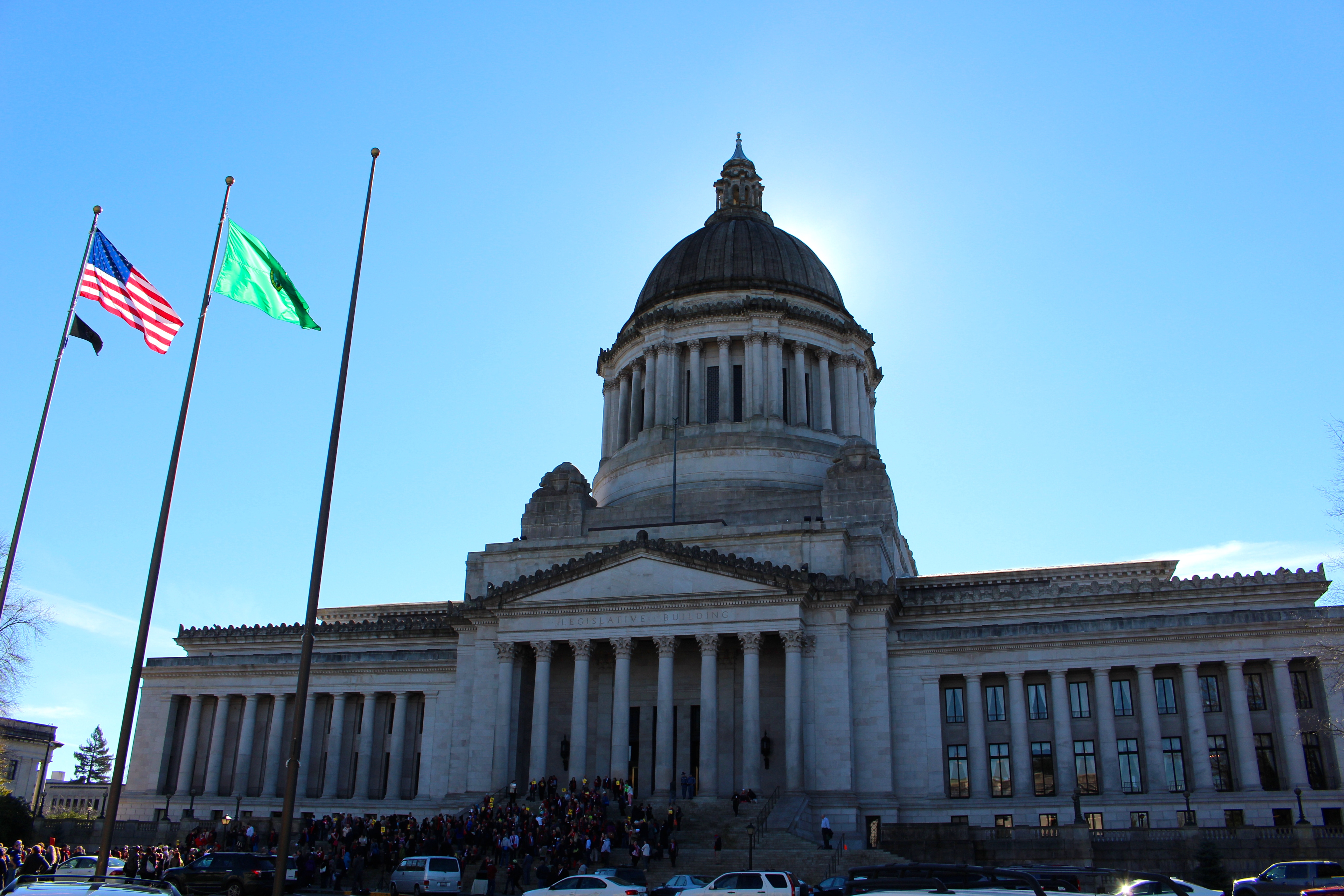 Congratulations everyone! We've officially made it 1/3 of the way through the session. Hooray!!
The first cut off is right around the corner, on February 3. That means that if a bill hasn't been voted out of its policy committee, then that form of the bill is dead unless it's NTIB (necessary to implement the budget.) After that, the deadlines and cut offs will come much quicker.
The hearing for the Housing Justice Act (HB 2017) was held on Tuesday morning. We were joined by so many people who shared incredible stories of their personal experience of being formerly incarcerated or stories of family members with that lived experience and the hardships of families being separated. Here is a link to the TVW video. We want to give a special shout-out to our own Duaa-Rahemaah Williams who started us out with her own powerful testimony!
This morning, there was a hearing for HB 2023 regarding the Enforcement of Tenant Protections. This bill would create multiple pathways for tenants to enforce their rights. We were lucky to be joined by five people who were able to testify with interpretation services who shared stories of landlords taking advantage of the fact that they are immigrants and English isn't their first language.
On Wednesday there was a public hearing on SB 5642, creating a Real Estate Excise Tax exemption for selling property for affordable housing. We passed this policy in 2020 but it was vetoed with a number of other bills due to COVID-related budget concerns. We anticipate that this bill will be on the Senate floor for a vote soon, which is exciting because it could make a big difference for local governments, nonprofits, and community land trusts in obtaining land for affordable housing.
Next week, HB 1904 is scheduled for a vote in the House Committee on Housing, Human Services & Veterans at 8 am on February 1. This bill would require landlords to give 6 months' notice of significant rent increases. SB 5749 sponsored by Sen. Trudeau would provide tenants with more flexibility when it comes to rent payment methods. This bill was voted out of the Senate Committee on Housing and Local Government yesterday, which means it could be voted on by the full Senate very soon!
Budget Priorities: Shout out to Jessie Friedman from Youth Care and Mercedes White Calf from Native American Youth and Family Center (NAYA) for all their support on our budget asks. While many of our budget priorities are aligned with Governor Inslee's proposal, we are seeing an indication that a lot of the budget surplus may be allocated to the transportation budget. We can't lose this opportunity to make a huge impact on housing and homelessness.
Join our sign-on letter calling on the Legislature to fund affordable housing and other solutions to homelessness, and share with your networks!
We look forward to seeing you at next week's Housing and Homelessness Advocacy Days events where you will have the opportunity to speak to your lawmakers about housing and homelessness bills most important to you!