A Look at HHAD 2022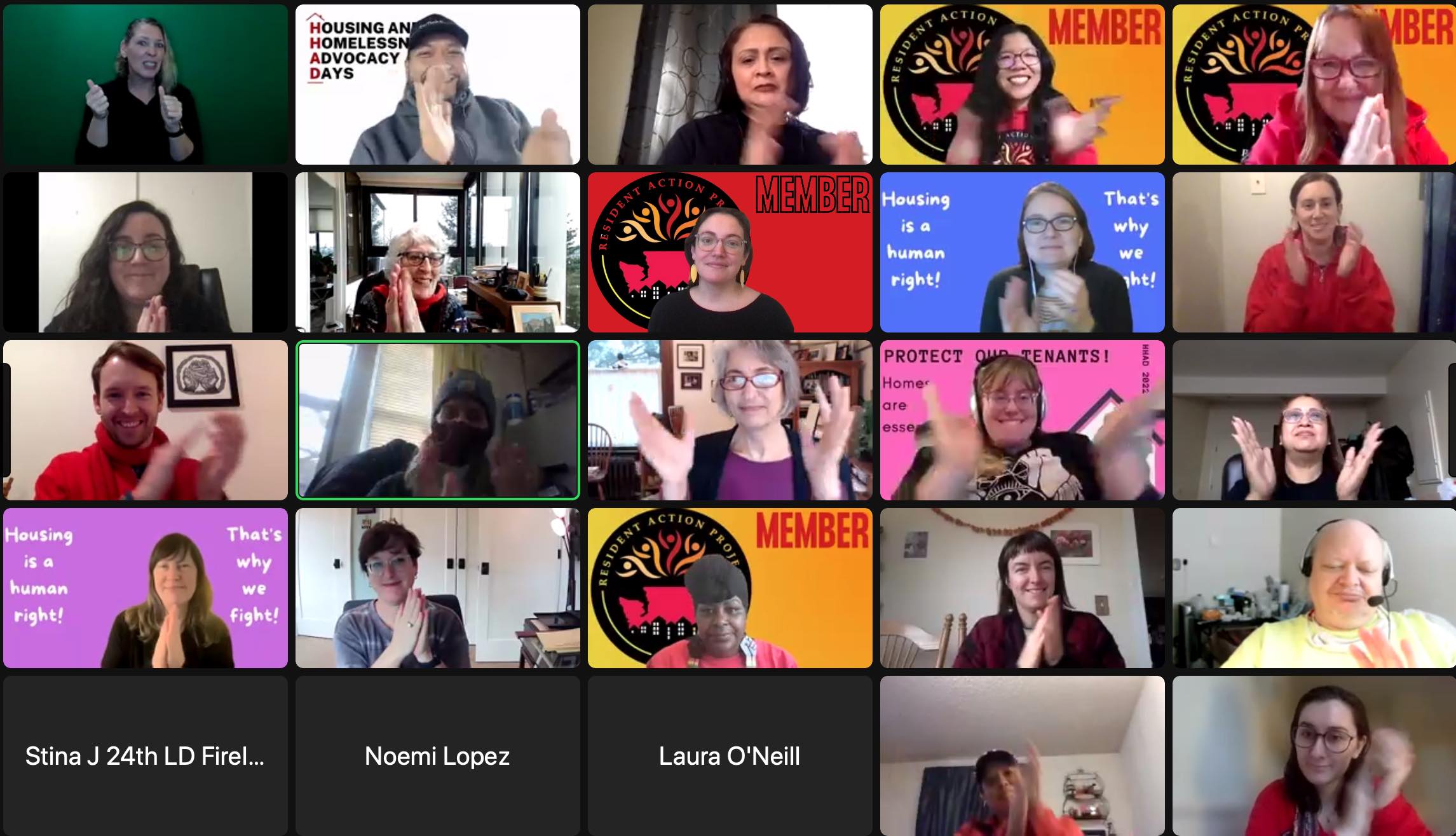 A screenshot of the HHAD Rally on Februrary 3rd
By Kendra Allman, Community Organizing Fellow
Our 2022 Housing Advocacy Days have come to a close! Congratulations! We had 600 people register for the event, thirty percent of whom have lived experience with housing injustice, homelessness, or housing insecurity. Over three days, we had 77 lawmaker meetings scheduled, where advocates had the chance to speak directly to their representatives about their passion for enacting housing justice in Washington.
HHAD's Rally was particularly powerful this year, as lawmakers from across the state came to voice their support of the Housing Alliance's priorities. Spokane RAP member Amber Abrahamson, along with her family, led some terrific chants live from the site where they offered support to those whose campsites were swept the night before. We then had some fantastic chanting in Spanish lead by Laura Baltazar from Firelands, an organization focused on uplifting low-income residents of small towns and rural communities. A recording of the rally should be available for public access soon!
Chris Jackson was kind enough to share with me some of his thoughts on his first ever HHAD, emphasizing what a new and powerful experience it was to see people sharing their personal stories with their legislators to try to make meaningful change. He told me that this year's HHAD had given him the opportunity to communicate with other advocates in his legislative district made him excited to continue participating in housing advocacy this year. We hope other first-time HHAD attendees feel the same!
Something that is always shown during homelessness and housing advocacy events, and something that has felt especially apparent during this year's HHAD, is the incredible power of stories in making serious policy change. During HHAD's Rally, Representative Thai of the 41st District made an emotional statement on this power of storytelling, saying, "I want you to know that you have so many who are now in the state legislature who are with you and understand you. It doesn't mean that your voice can be let off. We need to keep telling our stories, we need to invite more people into this space telling their stories because they matter. Every single one of us matters. Regardless, don't ever think that your story has already been told by someone else. Because collective impact matters."
Seeing so many people gather to communicate with lawmakers and with one another about their own struggles with finding or keeping a safe place to live was a truly moving experience. The willingness to be that vulnerable takes a lot of bravery, and we are so thankful to everyone who bravely shared their own stories at this year's event.
This year's HHAD was an incredible feat, and we can't give out enough thank yous to the Housing Alliance staff and RAP members who helped organize event, the lawmakers who supported our work, the LD Leads who prepared for and advocated for important housing and homelessness bills, those who bravely shared their personal stories at the event, and all the wonderful housing justice advocates who registered to take part. And we would like to give an especially big thank you to Caroline Lopez for her incredible work leading the organizing for this year's event – thank you Caroline!
And the session isn't over yet! We're still excited to continue working hard over the next few weeks to get some key housing justice bills passed. Check out our Capitol Re-Caps belong and keep tuned to see what we're working on.
---
Town Halls
We're reached the end of week four of the legislative session, and things are going to be moving pretty fast from here on out. State lawmakers hold these sessions to clarify their positions on key issues and to understand what their constituents find important as they vote on legislation, and attending town halls is a great way to make sure that your voice is heard!
If you're not sure what your district is, you can check here to find out!
Upcoming 2022 Virtual and Telephone District Town Halls (from the Washington State House Democrats website)
---
Capitol Re-Caps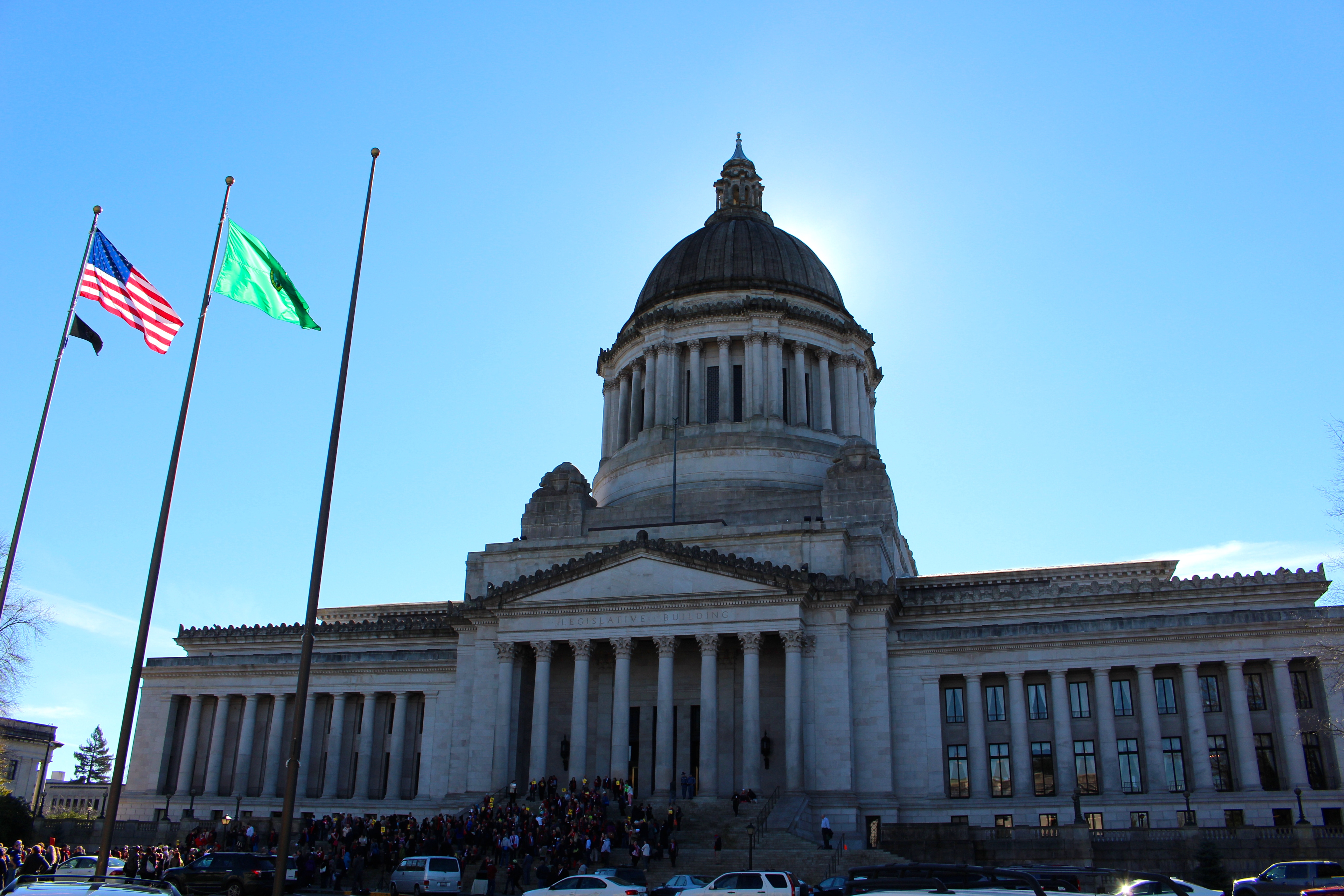 Congrats to everyone for making it to the end of week four! That means that we're almost halfway through this (slightly less than) nine-week session. Thank you all so much for your advocacy so far!
The first cutoff date for this session was just yesterday, February 3. If you don't remember, a cutoff date signals the date by which a bill needs to have been voted out of its policy committee of origin in order to advance to its next step. Now that we're past the fourth week, things are moving fast, and the next cutoff date is Monday, February 7. This is a fiscal committee cutoff date, which means that it will concern bills that have a fiscal impact. We're still pushing hard for our budget priorities, specifically, $500 million for affordable housing and $78 million for homeless service providers and permanent supportive housing workforces. If you haven't supported our sign on letter yet, please do so here, and share on social media! We want as many signatures on this sign on letter as possible. You can also check out the cutoff calendar for more info about upcoming cutoff dates.
Unfortunately, a few of the bills we have been supporting, such as House Bill 2023 and the Housing Justice Act (House Bill 2017), didn't survive this past cutoff date. However, the fantastic testimony and advocacy we've seen for those bills this session has lain critical groundwork, and we're looking forward to continuing the fight for both bills to pass in 2023.
In the meantime, some key housing justice bills have moved out of committee this week! House Bill 1904, which will require landlords to notify tenants six months in advance of a significant rent increase, was voted out of committee on Tuesday, and is now in House Rules. Senate Bill 5749, which would prohibit landlords from requiring their tenants to pay rent only through electronic portals, passed the Senate unanimously on Wednesday! That unanimous vote is an incredible achievement. Landlords have been lobbying hard against HB 1904 especially, so if you haven't yet, be sure to take action now to tell your lawmakers to get these two key bills passed.
House Bill 1643, which would create a tax incentive for selling properties to nonprofits, public housing authorities, and government entities to use for affordable housing, had a hearing just this morning and is scheduled for a vote tomorrow. As always, we want to give a big thank you to those who testified for this bill today.
Some exciting things for other bills are happening very soon – House Bill 1866, also known as Apple Health for Homes, passed out of committee unanimously and is scheduled for a hearing tomorrow at 9:00am. HB 1866 would significantly increase and streamline the production of permanent supportive housing, and we would love everyone to sign in pro before its hearing tomorrow!
Here are some other bills we're supporting that you can take action on:
House Bill 2075 would streamline the implementation of needed assistance from the Department of Social and Health services. Sign in pro here!
Senate Bill 5867 has made significant amendments according to our requests and will now require each county and city with a population of over 50,000 to establish and operate at least one overnight homelessness shelter. Sign in pro here!