Representative Image: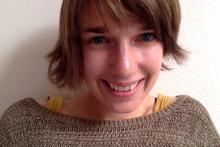 Kristina Nielander, Community Organizer
a year ago,
now i'm here
a year ago,
I wrote to you all with a
nervous and unknowing and enthusiastic
HELLO I'M HERE
AND ORGANIZING (what's that again?)
IN THE 30TH
C'MON, HELP AN INTERN OUT!
(by phonebanking and if you're feeling real adventurous, DOORBELLING)
((hey you can do that THIS YEAR by signing up here, ka-wink))
anticipating challenges and strides in the time ahead
95 volunteer shifts, too many memes, and lost race later
I wrote to you all again like
HOUSING PALS
LET'S DO THIS ORGANIZING THING WITH
RESIDENTS OF AFFORDABLE HOUSING
FOLKS WHO NEED A HOME
AND NONPROFIT STAFF, YOU, YES YOU
GOTTA HELP US OUT
and so we met on a blustery January day
with our friends from the Center for Community Change
what a day that was
talking about the deep twisted roots of the crisis
we're living in –
[to start –
redlining;
racial covenants;
"bad policy decisions";
freeway expansion;
the 80s (lol);
and it continues today;
same face with a different name…]
but hey look at the movements
but hey look at folks who have organized over the years
but HEY look at what we can do –
if we fight together,
those of us who don't need the problems to be explained,
those of us who nod without a
second of hesitation
when the words housing justice fill the space.
and so the Resident Action Project began.
committees, conference calls, gatherings near and far,
new faces, old friends,
and workplans.
and we grew and are growing.
at the conference on ending homelessness
I presented alongside
resident leaders, inspirers, my friends –
and among many things
we emphasized
what we need to do
to move forward –
to build inclusive space
and to address the power dynamics in organizing head on
and to own our mistakes [my mistakes, and yours]
because we know we'll make them
and we know that will be an opportunity
to reflect and adjust
and continue
strong.
now I'm here
like
Y'ALL LET'S BUILD A MOVEMENT
AND FOLLOW THE LEAD
OF THE FOLKS WHO GET IT
THE COMMUNITIES WHO NOD WITHOUT HESITATION AT
THE WORDS HOUSING JUSTICE
THE HUMANS THAT DON'T NEED TO SEE THE TEXTBOOK DEFINITION OF THE WORDS
BECAUSE THEY VISCERALLY FEEL –
POVERTY AND
OPPRESSION AND
THE HOUSING STRUGGLE
EVERY
SINGLE
DAY
now I'm here
because the Housing Alliance Action Fund
decided to keep me around.
now I'm here,
a community organizer
still learning and adjusting and listening
and calling you in.
Many thanks to those who have supported me in the past year – to my colleagues and friends who have listened to my many qualms, challenged me, and reminded me to slow down; to the leaders in the Resident Action Project who have shared so much with me and affirmed me in my learning moments; and most importantly to my family, who live the struggle every day and support and love me from way too far away.
I don't know how to blog, so this has been a "hey here's who I am!" poem.
Catch ya at a community night or RAP meeting soon!
Kristina